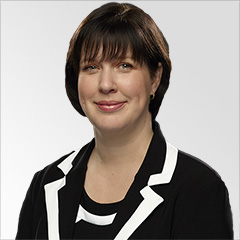 Annie Bertrand
Investment Advisor
T 514-985-7563
Languages: French, English
Biography
Ms. Bertrand has more than 19 years' experience in the securities field. In September 2010 she joined the Groupe conseil Wermenlinger team at Desjardins Securities. For 11 years previously, she held various positions related to operations and compliance, in particular positions as director of operations and head of compliance at the firm founded by Laurent Wermenlinger in 1996. She also held the position of compliance analyst for two years at Professionals Financial Inc.
Her broad experience in the securities compliance and operations field is an undeniable asset for the clients of the Groupe conseil Wermenlinger.
Groupe Conseil Wermenlinger
Our team specializes in Integrated Wealth Management.  Through a rigorous consultation process with our clients, predominantly professionals, entrepreneurs and business executives, we create financial strategies and offer solutions that favour both capital appreciation and preservation.   Accordingly, our clients can enjoy well-deserved peace of mind.   The minimum required to establish a client relationship with our group is $2 million per family.
Mission
Is your family fortune $2 million or more? What lies ahead? This deserves a closer look. How can you protect the wealth you have acquired through hard work? How can you maintain the lifestyle to which you and your family are accustomed? Wealth can hardly solve every problem. It often presents complex challenges that you have to face over the course of time. We can help you.
You may call upon our team's expertise and advice on many financial or personal matters. You can entrust to us the management of your portfolio and benefit from our investment views. We can contribute to your financial or estate planningFootnote 1, analyze your tax situation and suggest optimal solutions regarding your professional or personal life, and much more. The integrated management service we have provided for more than 20 years is designed to meet the expectations of wealthy families and individuals.
Investment Philosophy
We are investment specialists and not forecasters. We believe a structured investment strategy adds value over time with a higher level of reliability and trust than when it is based on instinct.
Rather than make a simple stock selection or passively track stock indices, we structure our portfolios to include various asset classes based on risk and performance criteria determined through scientific analysis. Our goal is to maximize our clients' yield through a judicious allocation of their assets among various types of investment and through rigorous risk control. We invest solely in asset classes that accurately fit our criteria and that enable us to build a portfolio with a diversified asset allocation.
What sets us apart
Our process includes five steps:
The exploratory meeting
We evaluate your overall situation with you to establish the suitability of our services. We identify the challenges you face in meeting your goals. We conduct a comprehensive analysis of your profile, summarizing your values, goals and relationships.
The development of your investment plan
We present a diagnosis of your current situation and our recommendations for meeting your goals. Your investment plan forms the basis of our business relationship.
The reciprocal commitment meeting
If you believe we can add significant value to managing your wealth, we reach a joint decision that commits us mutually to work toward fulfilling all the goals you seek for your family and yourself. We sign the documents needed to implement your investment plan. You will have in hand a policy and an investment strategy tailored precisely to your needs.
The first follow-up meeting (after 45 days)
This meeting is intended to organize and explain the documents you will be receiving. We present a progress report on the implementation of the portfolio and check our working hypotheses with you.
The second follow-up meeting
We review every item in the portfolio and comment on the portfolio implementation phase. We present a financial plan and update our recommendations.
Values
Expertise, transparency and performance.
Service Offer
Investment advice
Our services usually take the form of a comprehensive report on the client's current and projected position. This may involve an array of issues, notably:
Short-term and long-term financial goals
Analysis of cash requirements and the tax situation
Risk management
Tax, estate and retirement planning

Footnote

1
Financial support for studies
Planning of donations
Analysis of stock options
Financial impact from the purchase or sale of a business
Work contracts
Biographies of my colleagues
Laurent Wermenlinger

, FCSI®, CIM®, F. Pl

Vice-President, Portfolio Manager

T 514-985-7561

Languages: French, English

Mr. Wermenlinger, FCSI®, has more than 35 years' experience in the financial services field. He joined Desjardins Securities in December 2006 as a vice-president and portfolio manager to provide portfolio management and private management services to his prestigious clientele. His association with Desjardins Securities enables him to call upon an extensive pool of professional resources, bringing the benefits to his clients. Previously, Mr. Wermenlinger held the position of president and chief executive officer of a private wealth management firm that he founded in 1996 with two partners. In addition to his responsibilities as CEO, he served as portfolio manager for his broad clientele and chaired the investment committee.

Mr. Wermenlinger's expertise in private management is widely recognized. The Groupe conseil Wermenlinger specializes in integrated wealth management. Relying on a rigorous process of consultation with our clients, primarily professionals and businesspeople, we create financial strategies and propose solutions to favour the growth and perpetuation of their assets. Our clients thereby benefit from well deserved peace of mind. The minimum required to establish a client relationship with our group is $2 million per family.

Mario Sylvestre, CPA, CGA

Financial Planner

T 514-985-7562

Languages: French, English

Mr. Sylvestre has been a member of the Groupe conseil Wermenlinger at Desjardins Securities since December 2006. For 10 years before joining the group, he held a management position in financial planning and served as chief tax advisor at the firm founded by Laurent Wermenlinger in 1996.

Mr. Sylvestre holds a bachelor's degree in business administration and accounting from HEC Montréal and is a member of the Ordre des CGA and of the Institut québécois de planification financière. His great expertise in the taxation and financial planning field is an undeniable asset for clients of the Groupe conseil Wermenlinger.

Julia Ainsworth, M. Sc., CFA

Investment Advisor

T 514-288-4447

Languages: French, English

Ms. Ainsworth joined Groupe conseil Wermenlinger at Desjardins Securities in August 2015.  Her contribution to the team will involve primarily research, client servicing, and business development.  Prior to joining the team, she worked at Richter Family Office.

Ms. Ainsworth has a diverse background having earned a M.Sc. at McGill University.  This scientific background has developed her analytical skills which she applied to a career in finance.  Over the course of her career, she has formalized her financial knowledge by taking courses offered by the CFA Institute, the Canadian Securities Institute, l'Autorité des marchés financiers, and the Institute of Canadian Bankers. She earned the Chartered Financial Analyst (CFA) designation in September 2013.

Colette Brin,

Associate Advisor

T 514-281-7796

Languages: French, English

Ms. Brin has worked in the financial sector since 1990. She has held the position of associate advisor with the Groupe conseil Wermenlinger since December 2006 and continues to provide top-quality service to the clients she has served since 2000, starting with the firm founded by Laurent Wermenlinger.

She has in-depth knowledge of clients' files and works closely with Mr. Wermenlinger. Ms. Brin's administrative experience, rigour and discipline make her a first-rate collaborator.

 

Maryana Sokolyuk, MBA

Associate Advisor

T 514-281-8697

Languages: French, English, Russian, Ukrainian, Polish

Ms. Sokolyuk has more than 19 years' experience in the marketing and financial services field. Working for the Mouvement Desjardins since 2006, she joined the Groupe conseil Wermenlinger team at Desjardins Securities in January 2009.

The holder of master's degrees in marketing and business administration (MBA) for financial services executives from the École des sciences de la gestion at the Université du Québec à Montréal, she is taking a Canadian Securities Institute course to acquire designation as a Chartered Investment Manager.

Valérie Ah-Lahy,

Agent

T 514-281-5909

Languages: French, English, Spanish, Cantonese, Malagasy

Ms. Ah-Lahy has more than eight years' experience as an officer in various fields, including administration and accounting. Her college studies in these two areas are an asset for the team. Her integration in the Groupe conseil Wermenlinger in November 2014 took a very natural course, and she has provided strong support to the group since then.
Location
Desjardins Securities at Montréal - Le Windsor
1170, Peel Street
Suite 300
Montréal (Québec) H3B 0A9
514-985-7585 Toll-free : 1-866-985-7585Fax : 514-987-9593
Route
List of investment advisors
Back to top