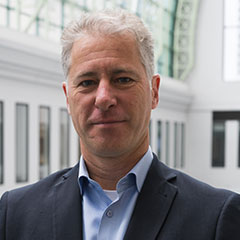 Carlo Massicolli

, ASC, BBA, F. Pl

Vice-President, Investment Advisor

T 514-985-4046

Languages: French, English, Italian
Biography
Carlo Massicolli is co-founder of the Private Counsel Group and its Multi-Family Office service. He is also Vice-President and Senior Partner, Business Development. He has extensive experience in the financial services sector and has developed unique expertise meeting the specific needs of business families.
Mr. Massicolli worked for several years as Senior Director, Trade Finance, at a major banking institution and then was a manager at a large brokerage firm where, in 1998, he helped develop the wealth management service.
In 2004, he joined Desjardins, where the Private Counsel Group and its Multi-Family Office would be created to serve influential Quebec entrepreneurs and business families.
His business experience led him to establish and head the Desjardins Business Market integrated business development committee. In addition, he developed special expertise in business transfers, which he put to use as a speaker for business families and the Desjardins Caisse network.
As part of his active community involvement, Mr. Massicolli was a member of the board of directors of the Fondation Yvon Lamarre for many years and remains very involved in the organization. He also works with a charitable organization, the Centre François Michel. In addition, he is currently a member of the board of directors and sits on the major and planned gifts committee of the foundation of the Université du Québec à Montréal (UQAM).
In his continuing quest for knowledge, Mr. Massicolli holds many diplomas. He has a Bachelor's degree in Finance from UQAM and successfully completed the Canadian Securities Course as well as the Options and Derivatives Course. He also holds a financial planning diploma from the Institut québécois de planification financière (IQPF) and is a graduate of the Collège des Administrateurs de sociétés at Université Laval, holding the Certified Corporate Director designation.
Private Counsel Group
Groupe Conseil Privé
Multi-Family Office
Transfer, perpetuation and management of wealth for business families.
Mission
The sound management and perpetuation of your family's wealth lie at the heart of our priorities.
Investment Philosophy
Building resistance to randomness
As manager of your family's investment company, the Private Counsel Group serves as a shield to protect you from the effects of chance events and helps you meet your intergenerational goals fully.
What sets us apart
Ensuring continuity
Investment companies: a timely transition
Business families most often make the transition from operating companies to investment companies when at least one of the following four transformational events occurs:
Presence of excess cash flow in the operating company;
Partial sale of the shareholding in the operating company;
Total sale of the shareholding or of the assets in the operating company;
Complex inheritance matters requiring the establishment of family governance.
By providing efficient management of a holding company, the Multi-Family Office (MFO) helps strengthen links both among family members and with their business partners. It also manages risk for optimal performance.
Values
Solid principles
The quality and integrity of the advice provided by the Private Counsel Group relies on the scope and pertinence of experience acquired by a team whose day-to-day work is based on solid principles:
Unfailing objectivity;
Independence of mind, fully respecting that of business families;
Absolute autonomy within a framework of rigorous governance;
Risk management as part of all responsibilities entrusted;
Open architecture in the fulfilment of mandates and activities entrusted to the business partners of business families;
Confidentiality.
Service Offer
Integrated risk management
Risk identification and control, in connection with the family. Benefit: Reduces your investment company's operating costs.
Discretionary portfolio management
Asset management entrusted to portfolio managers. Benefit: Helps perpetuate your family's wealth.
Centralization of information
Grouping critical information in the same place. Benefit: Ensures the business continuity of your family and your company, regardless of contingencies.
Intergenerational education
Customized design of education programs. Benefit: Favours fulfilment of your family's goals.
Financing
Relevant recommendations concerning financing needs, and guidance during the financing process. Benefit: Reduces your financing costs.
Administrative services
Offer every type of service required by the family. Benefit: Makes your everyday life easier through a one-stop shop for a range of requests.
Biographies of my colleagues
Guillaume Couture

,

M. Sc.

Advisor Assistant

T 514-985-4048

Languages: French, English

Mr. Couture is an analyst with the Private Counsel Group. His roles are to ensure the integrity of information in our financial management systems and to prepare the financial communications presented to clients. He is developing tools to facilitate analysis of the information at our disposal.

Before joining the Private Counsel Group in 2012, he worked at a consulting firm on computerized financial modelling combining computer programming with finance to develop customized solutions that meet clients' needs

Mr. Couture holds a bachelor's degree in business administration and a master's degree in administrative science, specializing in finance, from the Université de Sherbrooke. He is also a member of Quebec's professional order of accountants as a CPA and CGA.

Martin Gendron, CAIA, M. Sc., CIM®

Portfolio Manager, Investment Advisor

T 514-985-4051

Languages: French, English

Mr. Gendron is a Private Counsel Group partner and a Portfolio Manager for the team. He holds a Bachelor's degree in Business Administration and a Master of Science in Administration degree (MSc.), specializing in Finance, from HEC Montréal. His research thesis deals with market risk management. His expertise and extensive knowledge in integrated financial management make him a valuable resource for business families. Over the course of his career, he has specialized in discretionary portfolio management, financial analysis, development of comprehensive investment strategies, and monitoring of external managers.

He has obtained the Chartered Alternative Investment Analyst (CAIA) designation. He is also licensed to trade options and holds a derivatives strategies certificate as well as the Chartered Investment Manager (CIM®) designation.

Before joining the Private Counsel Group in April 2011, Mr. Gendron worked for the Caisse Desjardins de Kildare in 2008 and 2009. He then worked at HEC Montréal as a trader in the trading room and as a research assistant. His social and academic involvement has earned him many honours, including the prestigious Governor General's Academic Medal.
Location
Back to top