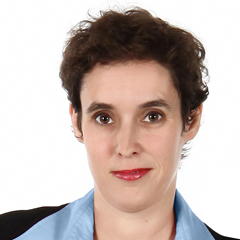 Julie Legault

, BBA

Investment Advisor

T 819-357-5220 ext. 5031228

Languages: French
Biography
Ms. Legault, who holds a bachelor's degree in business administration from HEC Montréal, is a cheerful, energetic and determined person who seeks to enhance your prosperity. She has extensive experience in the financial field and has worked at Desjardins Securities since 1993.
Legault-Dupont Team
Excellence Accreditation
Excellence accreditation attests that the investment advisor's services meet the highest standards of quality in order to offer you an unparalleled experience in meeting your financial needs. This distinction is awarded exclusively to Desjardins Securities investment advisors who participate in a continuous development and improvement program.
Our clientele consists of affluent families, businesspeople, professionals and retirees. We appeal both to individuals and to businesses.
Mission
Guiding you and your family in the pursuit of your financial goals.
Investment Philosophy
Optimization of portfolios to mitigate the adverse effects of fluctuations. Diversification by asset class (fixed-income and growth securities), geographic area and business sector.
Top-down approach (macroeconomic) and asset allocation maintained over the long term with discipline and rigour. Periodic portfolio rebalancing.
In the portfolio, we include index securities and investment funds (trust and corporate class). These products provide for a presence in all local and foreign markets.
What sets us apart
Full handling of the management of your wealth. Guiding you in every aspect of wealth management:
Values
Our values guide you. You can count on our attentiveness, our respect and our integrity.
Service Offer
The Legault Dupont Team offers you full handling in managing your wealth to provide you with an informed view and better planning of the projects that are important to you. We also work in close partnership with experts such as accountants, financial planners, notaries, insurers, tax specialists and others.
Biographies of my colleagues
Éric Dupont

,

BBA

Investment Advisor

T 819-357-5220 ext. 5031235

Languages: French

Mr. Dupont, the holder of a bachelor's degree in business administration from the Université du Québec à Trois-Rivières, has worked in the financial field since 1994. He is with Desjardins Securities since 2004.
Location
Desjardins Securities at Victoriaville
1100, boul. Jutras Est
Suite 101
Victoriaville (Québec) G6S 0M1
819-357-5220 Toll-free : 1-800-465-5522Fax : 819-357-5274
Route
List of investment advisors
Back to top