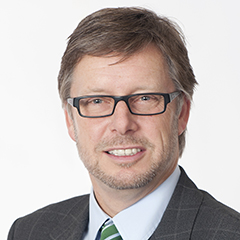 Marc Lauzier

, CFP®, CPA, CA

Vice-President and Regional Manager

T 450-671-7901

Languages: French, English
Biography
Mr. Lauzier holds a bachelor's degree in business administration from HEC Montréal. He has more than 22 years' experience in securities, including 17 years in various management positions. He was previously Vice-President of Lombard Odier and of Richardson Partners Financial, Vice-President and CEO of National Bank Financial and Senior Manager at KPMG.
Mr. Lauzier plays a key role in the management and supervision of the Desjardins Securities branch network in Southwest Quebec and the Montreal branch. He is active on several committees dealing with changes in the profession and on the Desjardins Securities compliance committee.
As regards social and community commitment, Mr. Lauzier is involved with the Montreal Canadiens Children's Foundation, United Way and the Fondation Esprit de Corps.
Location
Desjardins Securities at Montréal - Le Windsor
1170, Peel Street
Suite 300
Montréal (Québec) H3B 0A9
514-985-7585 Toll-free : 1-866-985-7585Fax : 514-987-9593
Route
List of investment advisors
Back to top