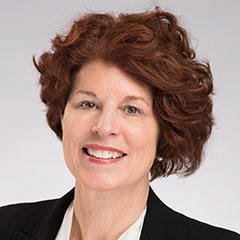 Mary Hagerman

, M. Sc., FCSI®, CIM®, CFP®

Portfolio Manager, Investment Advisor

T 514-985-4264 ext. 5064264

Languages: French, English
Biography
Master's in Management from the Université du Québec à Chicoutimi
Canadian Securities Institute's Canadian Securities Course (manager and Fellow)
Financial Planner designation from the Institut québécois de planification financière
More than 30 years of experience in the industry
With Desjardins Securities since 2001
2nd dan in Shotokan karate
Author of the book "The Black Belt Investor"
Highly disciplined, Mary Hagerman is an exemplary manager. Rectitude, respect and humility are essential to her in performing her daily duties, be it research and analysis, strategy development, or asset allocation as part of portfolio management. Mary specializes in developing tax-efficient strategies and intergenerational wealth transfer.
Hagerman-Archambault Group
Excellence Accreditation
Excellence accreditation attests that the investment advisor's services meet the highest standards of quality in order to offer you an unparalleled experience in meeting your financial needs. This distinction is awarded exclusively to Desjardins Securities investment advisors who participate in a continuous development and improvement program.
At your side throughout your life.
We have the privilege of being at your side throughout your life to offer you the products and services you need to fulfil your goals. Life is filled with unforeseen happenings: you can count on us to support you and advise you in good times and bad.
Mission
Being above all a loyal and devoted partner, with you and your family's peace of mind at heart.
Loyal and sincere, we remain at your side throughout your life. We are respectful, ensuring that your goals match your reality and your aspirations. Your well-being forms the cornerstone of all our actions and decisions. Professional and rigorous, we guide you step by step in fulfilling your goals.
Investment Philosophy
Wealth through risk minimization. Objective management of your assets. Careful management of risks and of costs related to management fees. Frank discussion for a healthy exchange where trust and transparency prevail. The use of exchange-traded funds (ETFs) and of our discretionary management portfolios.
Result: well informed and objective handling of your investments.
What sets us apart
Our team's experience, professionalism and empathy make us stand out. We believe it is vital never to lose sight of essential concerns: aspirations, family and quality of life. These form the focus of the recommendations we present to our clients.
We can advise our clients on overall planning, not only in managing their investments but also in the course of various life events affecting their personal finances with a direct influence on their well-being: marriage, divorce, or the birth or death of a family member.
We wish to help our clients provide direction to their money to ensure that their financial planningFootnote 1 is aligned not only with their financial reality but also with their personal values.
Values
Excellence, which leads us always to surpass ourselves.
Compassion and attentiveness, essential to understanding your needs and aspirations.
Professionalism, at all times.
Discipline, because it promotes a methodical approach and nurtures rigour.
Service Offer
We offer you wealth management based on your life cycle. We are the managers of your wealth and help you meet achievable goals by providing you with discretionary portfolio management as well as financialFootnote 1, tax and estate planningFootnote 1.
Biographies of my colleagues
Martin Archambault

,

BBA

Investment Advisor

T 514-985-4265 ext. 4265

Languages: French, English

Bachelor of Business Administration from the Université du Québec à Trois-Rivières
Canadian Securities Institute's Wealth Management Essentials and Canadian Securities Courses
More than 20 years of experience in the industry
With Desjardins for more than 15 years

Extremely attentive to his clients' needs, Martin Archambault makes them his priority. That's why he is responsible for client development. He meets with new clients to offer them services tailored to their needs. His extensive knowledge of the markets enables him to promote Hagerman-Archambault Group's service offer to its network of contacts and to the business community.

Chantal Bouchard,

Associate Advisor

T 514-281-7401 ext. 7401

Languages: French

Investment advisor certification and financial planning training with the Canadian Securities Institute
30 years of experience in the industry as an administrative assistant and associate advisor
With Desjardins Securities since 1993

With her diligence, sincerity and empathy, Chantal Bouchard is much appreciated by our clients. Her communication skills are impeccable, and her follow-ups are both detailed and regular. She has excellent knowledge of the financial markets and the global economy, as well as solid experience in customer service and with clients who have their portfolios managed on a discretionary basis.

Philippe Lévesque, BBA

Investment Assistant

T 514-985-4257

Languages: French, English

Bachelor's degree in business administration, specialization in management, UQAM
Canadian Securities Course
With Desjardins Securities since 2015

Philippe's experience in the caisse network is a welcome addition to the team. He's an enthusiastic and dynamic team member who performs quality assurance and handles administrative issues. He's detail-oriented and has a great work ethic, both of which make him very effective at handling client needs. His strong interest in financial markets and his appetite for learning make him an asset.
Location
Desjardins Securities at Montréal - Le Windsor
1170, Peel Street
Suite 300
Montréal (Québec) H3B 0A9
514-985-7585 Toll-free : 1-866-985-7585Fax : 514-987-9593
Route
List of investment advisors
Back to top