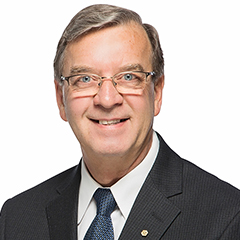 Michel Lacoursière
Investment Advisor
T 819-693-2003 ext. 5052016
Languages: French
Biography
A graduate of the Université du Québec à Trois-Rivières, Mr. Lacoursière has more than 30 years' experience in the world of finance. After working with several major financial institutions, he joined Desjardins Securities in 2003.
Goyette-Bartlett-Lacoursière Team
Encompassing wealth management, tax matters and close attention from a team with extensive expertise in the industry, our services are intended for businesspeople, professionals, retirees and pre-retirees.
Mission
Providing you with the highest standrds in advice and service.
Investment Philosophy
Our goal is to provide you with the best income or growth products while favouring protection of capital.
We work to create customized portfolios for you, taking a prudent approach.
What sets us apart
Dealing with the Goyette-Bartlett-Lacoursière Team ensures you of:
Constant availability of at least one team member.
Complementarity of talents and expertise among team members.
Being associated also lets us focus our efforts on our respective strengths.
Values
Skill, commitment, ethics, respect, transparency.
Service Offer
Helping you meet your financial goals through optimal allocation of your assets based on your investor profile.
Suggesting strategies to reduce the tax impact of your portfolio.
Ensuring you of regular monitoring of your investments.
Biographies of my colleagues
Philip Goyette

,

Investment Advisor

T 819-693-7666 ext. 5052015

Languages: French

After completing studies in administration at the CÉGEP de Trois-Rivières, Mr. Goyette held various positions before joining the Desjardins Securities team in June 2002.

He has 15 years' experience with the company and has developed broad expertise among entrepreneurs and businesspeople. He has also become a reference in the use of tax shelters.

Guylaine Lafond,

Associate Advisor

Languages: French

Ms. Lafond has more than 30 years' experience in the industry. A Canadian Securities Institute graduate, she is recognized for her professionalism, rechnical knowledge and great courtesy toward clients.

David Bartlett, M. Fisc, F. Pl

Investment Advisor

T 819-693-7567

Languages: French

David Bartlett has more than 10 years of experience in the financial advisory and services field, including as a financial planner since 2006. He earned a Bachelor's degree in Finance from the Université du Québec à Trois-Rivières and then took courses to obtain the financial planner designation. In addition, he holds a Master's degree in Taxation from the Université de Sherbrooke and specializes in serving entrepreneurial and professional clients. He also has specific expertise in serving doctors, who make up a good part of his clientele. He has won several Circle of Excellence awards from the Desjardins caisse network.
Location
Desjardins Securities at Trois-Rivières
1500, Royale Street
Suite 450
Trois-Rivières (Québec) G9A 6E6
819-693-3750 Toll-free : 1-888-316-3750Fax : 819-693-2666
Route
List of investment advisors
Back to top