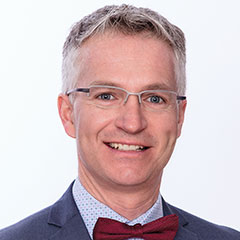 Nicolas Desgagnés

, CIM®, ASA

Vice-President, Portfolio Manager, Investment Advisor

T 418-692-3668

Languages: French, English
Biography
Over 20 years of experience
An actuary by training, Mr. Desgagnés devotes most of his time to managing your portfolios. He is registered as a portfolio manager with the self-regulatory organizations. He received the title of vice-president in 2007. Since 2000, he has specialized in managing Canadian equities at Desjardins Securities.
Desgagnés Garon Fluet - Portfolio Managers
Excellence Accreditation
Excellence accreditation attests that the investment advisor's services meet the highest standards of quality in order to offer you an unparalleled experience in meeting your financial needs. This distinction is awarded exclusively to Desjardins Securities investment advisors who participate in a continuous development and improvement program.
The Desgagnés-Garon Team consists of nine people who have combined their education, expertise and professional experience to offer you distinctive and personalized service. Our team manages more than $450 million in assets.
Mission
The Desgagnés Garon Team is determined to expand their clients' wealth by providing dynamic long-term management of their investments. Transparency, trust and mutual respect characterize the professional relationships they maintain with their clients.
Investment Philosophy
In making investments, we favour top-down management. Asset allocation accounts for most of the added value generated by our portfolios. We conduct a full economic analysis in deciding whether to go overweight or underweight in particular sectors, based on our forecasts. Growth in earnings per share and in dividends are important for us, as are low debt-to-equity ratios and the visibility and predictability of earnings per share. We buy high-quality stocks, enabling us to reduce volatility in existing investments and to promote long-term growth. We favour reasonable price-earnings ratios and strong returns on equity. Our portfolios are focused; they must take account of tax impacts and show a low turnover. When necessary, we rebalance portfolios based on targeted weightings. Our criteria for selling a stock are deterioration in basic parameters and a valuation that no longer matches the pre-established targets.
What sets us apart
The members of the Desgagnés Garon team are noted for their proactive, value-focused approach and the rigour of their working methods. These experienced managers also stand out from their competitors through the transparency they show in terms of trading, performance, fees and sharing of information. They have broad experience in portfolio management, specializing in Canadian blue chip stocks.
Values
In business management, we believe it is fundamental to known our clients well and to maintain relationships with each of them in an atmosphere of trust and collaboration. We feel we should be linked by ties of mutual respect, and all our clients should be treated equitably. In our view, it is vital to show transparency not only in trading and related information but also in management fees, performance and follow-up. Our clients should provide us with all the information needed for wise decisions to be made and to help us manage their portfolios better. For us, success is achieved by implementing proven processes and by working in a rigorous and structured way.
Service Offer
Investment advice: Setting of financial goals, analysis of risk tolerance, statement of investment policy, establishment of an asset allocation strategy, selection of portfolio managers, construction of a portfolio, continuous monitoring and portfolio rebalancing, estate planning and insuranceFootnote 1.
Regular communication: Quarterly performance reviews and comments, year-end tax reports (when required), telephone contacts based on pre-established needs, responding to clients' calls and e-mail message within 24 hours, annual performance examination. 
Portfolio management: We have created portfolios that are offered to our clients based on their profiles and investment horizons. The effectiveness and rigour of our management methods apply at all decision-making levels. Our portfolios are focused and provide a good blanace between risk management and return on investments.  
Retirement projection: Some of our clients need to know if they will have enough money when they retire. To help them assess their needs at that stage in their lives, we offer to conduct a simulation that lets them see their future needs, taking account of inflation, taxes and their spending habits.
New way of developing your investments: Transfer of decision-making power, with oversight through an investment policy and with a disciplined investment strategy that provides control, flexibility and tax advantages. Compensation in the form of management fees (percentage of asset value). Tax deductibility of management fees in non-registered accounts. Fees calculated on an amortizing basis. Possibility of linking accounts. No hidden fees. Discretionary management lets you remain the beneficial owner of your securities. Capital gains and losses are attributed to each security sold. Other investors' cash flows have no impact on your portfolio. Managers conduct changes based on shifts in market. Buying and selling of securities in your portfolio is executed by Desjardins Securities.
Biographies of my colleagues
Jacques Garon

, BBA, CIM®

Vice-President, Portfolio Manager, Investment Advisor

T 418-692-3668

Languages: French, English

Over 10 years of experience

Mr. Garon has training in business administration from Université Laval and the Aston Business School in Birmingham, England. In 1999, he received the Hermès succession award, the highest distinction from the Faculty of Business Administration at Université Laval for his commitment in the business world and in the community. 

He has been a portfolio manager since 2008 and is involved primarily with portfolio management and client follow-up.

Caroline Fluet, B.A., CIM®

Portfolio Manager, Investment Advisor

T 418-692-3668

Languages: French

Over 20 years of experience

The holder of a bachelor's degree in industrial relations from Université Laval, Ms. Fluet has worked in the finance field with Desjardins Securities since 1996. Over the years, she has developed special expertise with female clients. She stands out in particular for her professional and personalized approach.

Josette Rivard, CIM

Investment Advisor

T 418-692-3668

Languages: French

Over 25 years of experience

Ms. Rivard has training in administration. She has worked in the Mouvement Desjardins for more than 25 years, including 12 years as general manager of a Desjardins caisse. She joined the Desgagnés Garon Portfolio Managers team in 2002. She handles follow-up with clients, specializing in accounts held by foundations and religious communities.

Guy Delage, BBA

Investment Advisor

T 418-692-3668

Languages: French

Over 25 years of experience

Mr. Delage has training in business administration from Université Laval. He has 13 years' experience in securities at various firms, including Nesbitt Burns and Scotia McLeod. He has worked at Desjardins Securities since 2002 and joined Desgagnés Garon Portfolio Managers in 2009 to ensure follow-up with his clients.

Mélanie Roussin, CIM

Associate Advisor

T 418-692-3668

Languages: French, English

Over 20 years of experience

Ms. Roussin has more than 20 years' experience in securities. She joined Desjardins Securities in 2001.

She works as an assistant advisor, ensuring follow-up with clients and actively supporting discretionary management.

Sylvie Vandal,

Investment Assistant

T 418-692-3668

Languages: French

Over 30 years of experience

Ms. Vandal has worked in the securities field since 1986. She joined Desgagnés Garon Fluet Portfolio Managers at Desjardins Securities in 2009. She looks after the operation of administrative duties in connection with work by the portfolio managers and investment advisors on behalf of our clients.

Johanne Fradette,

Advisor Assistant

T 418-692-3668

Languages: French

Over 10 years of experience

Ms. Fradette has worked for more than 10 years with the Mouvement Desjardins. She joined the Desgagnés Garon Fluet Team, Portfolio Managersm at Desjardins Securities more than a year ago.

She assists investment advisors in administrative activities and client service.
Location
Desjardins Securities at Québec
70, Dalhousie
5th floor
Québec (Québec) G1K 4B2
418-692-3668 Toll-free : 1-877-780-1166Fax : 418-692-1339
Route
List of investment advisors
Back to top