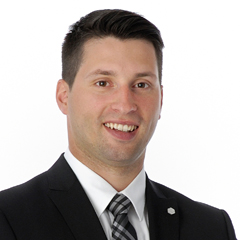 Nicolas Goulet

, BBA

Investment Advisor

T 418-650-6350 ext. 5025206

Languages: French, English
Biography
Mr. Goulet holds a bachelor's degree in business administration (finance option) from Université du Québec à Trois-Rivières and has been certified by the Canadian Securities Institute. He served as an officer of the Royal Canadian Navy and worked as a finance director for a strategic consulting firm before making the switch to securities.
Philippe Boily Team
Excellence Accreditation
Excellence accreditation attests that the investment advisor's services meet the highest standards of quality in order to offer you an unparalleled experience in meeting your financial needs. This distinction is awarded exclusively to Desjardins Securities investment advisors who participate in a continuous development and improvement program.
Mission
My priorities are to guide my clients in managing their portfolios, taking a fundamental approach to analyzing securities with a view to favouring the preservation and long-term growth of their capital.
Investment Philosophy
A fundamental approach to stock analysis, favouring capital preservation and long-term growth.
Financial strength, earnings growth, healthy business prospects, quality of the management team and stock price are among the criteria that shape decisions on stock selection.
Reducing risks by setting minimum and maximum weightings for each asset class and for each economic sector.
What sets us apart
We seek, through the quality of our advice, to enable our clients to make the right decisions regarding financial assets by developing effective strategies to limit the tax impact, thereby preserving capital throughout their working lives and their retirement.
Values
The values most precious to me are competence, honesty, consistency and, above all, exellence.
Service Offer
Traditional management with commission-based accounts.
Fee-based management with Elite accounts.
Discretionary management service with Darwin, providing the opportunity to invest with several experienced managers.
Biographies of my colleagues
Philippe Boily

,

B.A.

Vice-President, Investment Advisor

T 418-650-6350 ext. 5025256

Languages: French, English

Philippe Boily has a Bachelor's degree in Political Science from Laval University, with a major in International Relations, and has also completed the CSI course for Partners, Directors and Senior Officers. Philippe has been working for Desjardins Securities since 1997. Every year from 1999 on, he's received the President's Club award, and from 2007 onward has also been awarded the Chairman's Club prize. He's also received honourable mentions – Advisor of the Year in 2007 and Recruit of the Year in 1999.

Jean-Philippe Lemieux, LL.B., F. Pl

Investment Advisor

T 418-650-6350 ext. 5025210

Languages: French

Jean-Philippe Lemieux has a Bachelor's degree in Law from Laval University, part of which was completed in France at Université Paris I – Panthéon-Sorbonne. He was brought into Philippe Boily's team in order to share his wealth management expertise.

Jean-Philippe is a member of the Barreau du Québec and the Institut québécois de planification financière, Quebec's financial planning institute. He's been working in the financial sector since 2010, first as an investment and retirement advisor, and then as a financial planner from 2013 on, mainly providing advice for entrepreneurs and professionals. He has completed several CSI courses, including the Portfolio Management Techniques Course and the Canadian Securities Course.

Dominique Marleau,

Investment Assistant

T 418-650-6350 ext. 5025294

Languages: French

With a business certificate from TÉLUQ, Dominique Marleau has also taken the CSI Canadian Securities Course. She has been working with Desjardins Securities since 2007, and has been a member of Philippe Boily's team since 2012.
Location
Desjardins Securities at Sainte-Foy
Place de la Cité - Tour Cominar
2640, boulevard Laurier, Suite 1400
Québec (Québec) G1V 5C2
418-650-6350 Toll-free : 1-800-361-6006Fax : 418-650-5159
Route
List of investment advisors
Back to top