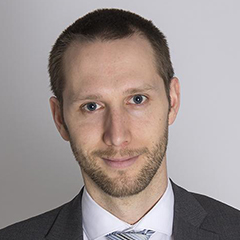 Pascal Lavigueur

, BBA, CIM®, F. Pl

Investment Advisor

T 514-876-7826

Languages: French, English
Biography
Previously an advisor at a company providing specialized services to health care professionals, Mr. Lavigueur supervised accounts totalling more than $75 million. His role is to put forth long-term investment strategies, optimizing every aspect of financial planning. For this purpose, he works jointly with a multidisciplinary teamFootnote 1. He maintains close relationships with medical and dental associations, hospitals and major pharmacies.
An expert in financial markets, he is part of a team specializing in services to health care professionals, whose situation and requirements he is highly familiar with. He provides top-of-the-line one-stop service, with levels of attention and performance that exceed all expectations. Available seven days a week, he travels to all the key regions of Quebec.
Rubino Lavigueur Team
We are experts in financial markets who specialize in services for health care professionals, whose situation and requirements we are familiar with. We provide top-quality, one-stop service that is attentive and efficient, exceeding all expectations. We are available seven days a week, and we travel to all key regions of Quebec.
Mission
Ensuring peace of mind for health care professionals in Quebec.
Investment Philosophy
We know that most health care specialists lack retirement plans and that the wealth they accumulate is vital to maintaining their post-career quality of life. This is why we shown discernment and prudence in the strategies and advice we provide to our clients.
Maximizing and protecting your wealth by respecting your risk tolerance so that you can retire when you choose while maintaining your standard of living and paying less in taxes.
Protecting your family and your income in case of unexpected events such as disability or serious illness.
Protecting you through a will suited to your situation and a mandate in case of disability to facilitate the transfer of your assets.
Ensuring that, in the event of death, your assets generate enough income to maintain your family's living standards and your children's education.
Helping you plan the sale or succession of your clinic or pharmacy.
What sets us apart
Our experience with health care professionals, together with our expertise, enables us to do for you what your busy schedules prevent you from achieving on your own. We stand out by combining the expertise of firms belonging to your federations with the power of a major institution. In 2012, we were designated a "Desjardins Securities Hope" in recognition of our team's strengths and particularities as well as the dynamism we put into practising our profession and the quality of relationships we establish with our clients.
Values
Integrity
We do not content ourselves merely with following the rules of confidentiality and compliance: we exceed our clients' expectations. In our relationships with them, clarity is fundamental in terms of both fees and advice. Take the time to consult our files with the Autorité des marchés financiers.
Devotion
We stand out for our proactive approach and the interest we show in our clients. With our customized services, we anticipate their needs and go beyond their expectations. At all times – days, evenings and weekends – we are available to them.
Innovation
Stock markets stir our enthusiasm, and we are constantly on the lookout for new investment solutions. Located in downtown Montreal, we are part of Quebec's biggest financial institution. We have privileged access to managers who belong to the global elite. This proximity enables us to offer strategic solutions to offset the weakness in today's anemic interest rates.
Excellence
Whether in terms of portfolio performance, wealth management, customization of services or knowledge of our clients' situations, we seek nothing less than excellence.
Service Offer
The Rubino Lavigueur team, with its focus on health care professionals, has created a service offer that covers every facet of wealth management, with many free perks. This is clearly the most generous offer on the market at present. This special course of action is available only when you meet a member of our team. Contact us to learn more.
Biographies of my colleagues
Michel Rubino

, BBA, FCSI®, CIM, F. Pl

Investment Advisor

T 514-876-1204

Languages: French, English

Previously a portfolio manager with a company providing specialized services to health care professionals, Mr. Rubino has 14 years' experience in the financial services field. In charge of investment on the team, he devotes most of his time to examining the market and finding the best investment opoortunities.

Cindy Rainville, BBA

Associate Advisor

T 514-876-4142

Languages: French, English

Cindy joined Desjardins Securities in 2008, and the Rubino Lavigueur team in 2016. Her work ethic, organizational skills and extensive knowledge of accounting and taxes are put to good use in her main role managing the practice.
Location
Desjardins Securities at Place Ville Marie
1 Place Ville Marie
Suite 1970
Montréal (Québec) H3B 0E8
514-876-1441 Toll-free : 1-866-876-1441Fax : 514-876-1106
Route
List of investment advisors
Back to top