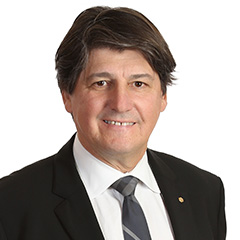 Serge Parent

, FCSI®, CIM®

Investment Advisor

T 418-692-1128

Languages: French, English
Biography
A graduate in administration at the Université du Québec à Trois-Rivières (UQTR), Mr. Parent has been an investment advisor for more than 25 years.
Designated a Chartered Investment Manager (CIM®) and Fellow of the Canadian Securities Institute (FCSI®), he adopts a style of customized management for his clients, favouring prudent wealth management.
He uses traditional financial instruments with sound diversification.
Parent Poulin Team
Mission
Our goal is to be your partner of choice for all your financial management needs, so that you can reach your financial goals on time. To do that, we believe in building solid, long-term relationships with our clients.
With our market experience and financial product expertise, we pride ourselves on being able to accurately identify our clients' needs and find customized solutions that work for them.
Investment Philosophy
We've always taken a traditional approach that focuses on making sure we know our products, whether it's fixed income or growth. When it comes to managing your money, we believe in careful strategic planning for the long term. Our philosophy is to invest in companies, not "borrow" securities. When we select stocks, we know that fundamental analysis is key. We also prioritize income-generating solutions. We target companies that pay out a dividend and that aim to create value for shareholders by increasing that dividend year over year.
What sets us apart
We have a reputation for understanding the market, knowing our products, making decisions independently and objectively, and doing our homework to get a complete picture of every situation. Our team's experience is reflected in the quality of our advice, and we're committed to giving you the dedicated and excellent service you deserve.
Values
We work to establish relationships of trust and commitment with our clients and their family members. We strive to meet 2 main objectives: to make your life easier and to ensure you're in good financial health.
Rigour, independence, ethics, integrity, attentiveness and loyalty are very important values to us. They provide direction for our organization, they motivate our teams, and they're central to our culture. Most importantly, they serve as a foundation for all our business relationships.
Service Offer
Our 4-step plan:
1. Analyze your needs 
Understand your needs
Determine your objectives
Create your investor profile
2. Provide a personalized offer
Present our investment model
Make recommendations that fit your profile
Implement strategies
3. Follow up on the service offer
Assess your results
Consult with other professionals
Arrange meetings whenever you need them
4. Recalibrate your portfolio
Provide ongoing management services
Portfolio construction:
We adjust the basic asset allocation model in response to market conditions.
In selecting securities, we look at the results of our analysis, which includes external input, and always make sure everything is in line with our values and with your needs and objectives.
We may use a combination of active and passive investment approaches.
We analyze each management style in relation to the economic environment and market conditions.
We look for the best returns at the lowest cost.
Biographies of my colleagues
Nicolas Poulin

,

BBA, F. Pl

Investment Advisor

T 418-692-9293

Languages: French, English

Nicolas has a degree in business administration with a finance major from Université du Québec à Rimouski (UQAR). He's an investment advisor and an accredited financial planner from the Institut québécois de planification financière. With nearly a decade of of experience in personal finance, he's expertly qualified to manage your personal investment portfolio and help you plan for retirement.

Nicolas is an expert in pre- and post-retirement financial strategies and in helping affluent clients manage their wealth. He's known for being detail-oriented and attentive to his clients' needs—two big reasons why he quickly develops strong relationships built on trust. Nicolas works extensively in business development and financial planning, where he excels at finding tax strategies that work with your portfolio to create savings. He's well-known at Desjardins for his impressive work ethic.
Location
Desjardins Securities at Québec
70, Dalhousie
5th floor
Québec (Québec) G1K 4B2
418-692-3668 Toll-free : 1-877-780-1166Fax : 418-692-1339
Route
List of investment advisors
Back to top