A Team of Experts
At Desjardins Securities, we always recruit the best professionals so that you will enjoy unparalleled service as we manage your financial challenges together.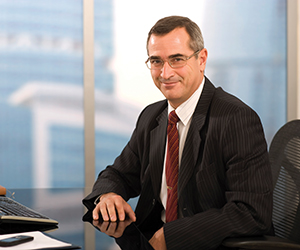 First, you should know that there is a direct link between the growth of a household's financial assets and the guidance of investment advisors. In similar situations, households that benefit from the expertise of an advisor will see the value of their portfolio grow more quickly than that of households that do not have a dedicated advisor.Footnote 1
To increase your chances of achieving all your life projects one day, we place at your disposal more than 360 advisorsFootnote 2, who have been trained according to the highest standards in the investment industry. Able to rely at all times on the support of some 49,000 employees of Desjardins Group, our advisors are part of the largest network of experts in Quebec.
Doubly reassuring training
All our investment advisors are registered with the Investment Industry Regulatory Organization of Canada (IIROC), a non-profit organization which ensures, among other things, that each advisor is duly qualified to help you achieve your financial objectives.
In other words, our advisors have systematically – and successfully! – completed recognized securities courses. Since they are also obliged under securities regulations to take professional development courses throughout their career, they will always be up to date on the latest ethics and compliance directives.
They can therefore:
Give you specific recommendations according to your investor profile.
Exactly describe the suggested products.
Clearly explain the benefits and the risks of these products.
Warn you against having unrealistic return expectations or making emotional decisions in falling or rising markets.
Play an active role in your financial success.
A model of perfection
With a view to better identifying your needs, many of our investment advisors have training as a financial planner, an accountant, a notary, or a tax specialist. Others have chosen to specialize in certain areas, such as meeting the specific expectations of doctors, pharmacists, farmers or lawyers.
Regardless of their expertise, our advisors can also count on our incomparable Research Department, the support of our many wealth management experts, and the daily recommendations of our Portfolio Advisory Group, an elite team that closely monitors stock market developments.
To find an advisor who can respond to more specific needs, contact your branch manager.
Solid protection
VDesjardins Securities is a member of IIROC and a member of the Canadian Investor Protection Fund (CIPF) - External link. This link will open in a new window.. In the event that a member firm becomes insolvent, the CIPF will cover you for up to $1 million per type of account. The details of this coverage are available on the CIPF - External link. This link will open in a new window. website. A brochure describing the nature and limit of the coverage is also available upon request.
Desjardins Securities has also taken out insurance against the risk of misappropriation and loss resulting from a dishonest or fraudulent act committed by an employee. If ever such fraud were to be committed, Desjardins Securities management would immediately take all necessary remedial measures. In accordance with our Code of Ethics and Professional Conduct, each of our employees must comply with very specific procedures when executing transactions in the course of their duties.