Superior Online Tools
Our online services were designed to give you all the information you need with just a few clicks.
We believe it is important to provide you with quality tools to help you make informed investment decisions. Now, you can get the most out of dsia.ca. Both our public and secure sites are responsive and adapt to whatever device you're viewing it on, making for seamless browsing on any type of screen.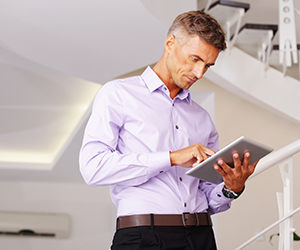 A wide range of online services
Our user-friendly and highly secure services will give you access to:
All your accounts 24/7.
Your e-statements and transaction history.
Detailed charts, market information and quotes.
Watch lists
Desjardins Securities publications and research, including Daily Pulse (a daily overview of North American, European and international markets), Research Comment (analysis of specific companies and sectors), Focus (quarterly newsletter covering various financial and wealth management topics) and Strategy Plus (economic and strategic outlooks and recommendations for specific sectors).
More than 2,000 research reports from Morningstar.
Recognia technical analysis tools.
Calculators and tools to help you plan your retirement.
An app that saves you time
Quickly access your accounts on your smartphone or tablet using one simple app.
Learning to navigate the Desjardins Securities - DSIA app is a snap!
Use the navigation menu to check your accounts, market data and watch list at any time
Get stock quotes using the search tool
Check your portfolio performance using 5 different types of graphics