Exclusive Products and Services
Like Desjardins Group, we set ourselves apart from the competition: To better serve you, we offer you products and services exclusive to Desjardins Securities.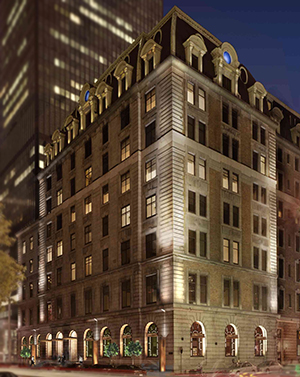 The Desjardins Securities Elite Program: Transparent and comprehensive
The Desjardins Securities Elite Program
involves a fee-based brokerage account where the commissions generally paid to your investment advisor are replaced by a flat fee based on the value of your assets.Footnote 1 Regardless of the type of account, you'll be able to:
Optimize the discussions you have with your advisor concerning your investments.
Better manage the cost of your investment advisor's services.
Obtain fee-related tax benefits.
Benefit from the absence of certain management fees.
And you'll no longer have to concern yourself with paying commissions on each trade.
In addition to these advantages, you'll also enjoy substantial privileges: Footnote 2
You'll be able to combine your assets with those of your spouse or family members to pay even lower fees.

Footnote

2
As your assets grow, the fee rate on certain investment products may drop and become even more advantageous.
According to your investor profile, you can choose from one of three Elite Program options: Elite Basic, Elite Intermediate and Elite FLEXible. Your investment advisor can help you choose the option that's right for you. Regardless of the option you choose, you'll receive a number of commission-free trades.
For business families: An incomparable offer
If you own a family business whose assets are constantly growing, we can take charge of all aspects of managing your wealth.
Based on the Multi-Family OfficeFootnote 3, a concept that first appeared in the United States during the second half of the 19th century, the professionals of the Desjardins Securities Private Counsel Group will do everything they can to:
Optimize the management of your wealth.
Support you with the intergenerational allocation and transfer of your assets.
Give you peace of mind.
To learn more about this unique Desjardins Securities offer, see the Business Services – Investment Solutions section
A wide choice of new issues
If you are interested in the new issues of companies that have the wind in their sails, you can easily have access to them through our investment advisors.
Offering a wide range of new issues, they will notify you as soon as one becomes available to investors and, based on your profile and your risk tolerance, they will then tell you the best course of action. Our experts are always on the lookout for good market opportunities, but they are there first and foremost to advise you with rigour and discernment.
To learn more about these new issues, contact one of our advisors
Certain conditions apply.
Consult your investment advisor to learn more about the Elite Program and its new privileges.
The Multi-Family Office is offered by the Private Counsel Group, some services of which are provided by Desjardins Securities Financial Services Inc., registered as a financial services firm.