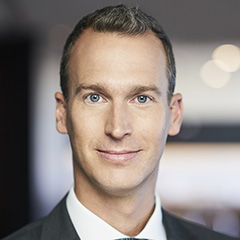 Alexandre Doyon

, BBA, CFA, CIM®, F. Pl

Portfolio Manager, Investment Advisor

T 450-682-1824

Languages: French, English
Biography
Known for his attention to detail, Alexandre Doyon built his reputation by offering quality service and going the extra mile for his clients.
Alexandre Doyon has worked in the financial services industry for more than 10 years. He has worked for a number of institutions have enabled him to acquire solid experience that benefits his clients today.
He holds a Bachelor of Business Administration degree from the University of Quebec in Montreal, he also earned a diploma in financial planning from the Institut québécois de planification financière. He obtained the Chartered Investment Manager designation from the Canadian Securities Institute and has taken various courses on derivatives and options. He also earned the designation of Chartered Financial Analyst® awarded by the CFA Institute.
After several years as a financial planner, he joined Desjardins Securities in 2011 as an investment advisor.
Doyon McCann Group
Protecting your interests with integrity
Mission
Our mission is to guide our clients along the path to financial success by becoming their wealth management partner of choice.
Investment Philosophy
Delivering remarkable results for our clients requires a structured, disciplined approach. The cornerstone of our philosophy is protecting capital through diversification and eliminating needless risk.
We offer superior service by adopting management styles adapted to different asset class categories. We also work with a team of carefully selected specialists to complement our service offer.
We believe that net returns are the real measure of performance. That's why we focus on tax optimization strategies and cost control.
What sets us apart
The Doyon McCann Group offers expertise and professionalism that's founded on extensive training and more than 35 years of combined experience in financial services.
We're free to choose the products that meet our strict requirements and your goals, based on objective and impartial assessments.
We pride ourselves on good communication, which helps us build lasting relationships with our clients that are based on trust. We're guided by strong values that set us apart: honesty, transparency and confidentiality.
Service Offer
We take a big-picture approach to investment advice. We can help you identify and apply your individual investment policy based on your goals and reality.
As a client, you always benefit from our investment philosophy, whether you choose to use our investment advisors or our discretionary management service. You also enjoy exclusive access to an integrated financial planning service and a comprehensive range of credit and financial protection solutions to meet your financial needs.
Biographies of my colleagues
Jean-Philippe McCann

,

BBA

Investment Advisor

T 450-682-8755 ext. 5138755

Languages: French, English

Jean-Philippe McCann enjoys staying up to date on what's happening in the world of finance. Jean-Philippe knows how to listen and adapt to his clients needs.

Jean-Philippe holds a bachelor's degree in market finance from HEC Montréal and joined Desjardins Securities in 2008.

Lucie Carpentier,

Investment Assistant

T 450-682-6125

Languages: French

Lucie Carpentier is a professional, dynamic member of the team with 15 years' experience in the financial industry.

Lucie is responsible for the team's administrative duties, and always offers clients exceptional service. She's currently completing courses on Canadian securities and conduct and practices at the Canadian Securities Institute.
Location
Desjardins Securities at Laval
3055, boulevard St-Martin Ouest
Suite T440
Laval (Québec) H7T 0J3
450-682-5858 Toll-free : 1-800-449-7881Fax : 450-682-6474
Route
List of investment advisors
Back to top