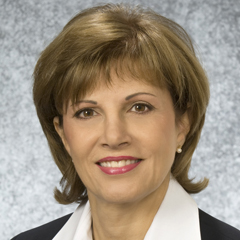 Céline Coutu

, BBA

Investment Advisor

T 514-281-7127

Languages: French, English
Biography
Studies: Bachelor's degree in business administration, finance major; Canadian Securities Course.
Lincenses: Securities, options.
Has worked as an investment advisor in the financial field for more than 25 years. She has continuously upgraded her skills in accounting, financial and tax planning, retirement and estate planning, financial security, taxation and options.
Provides customized service in analysis of financial positions for a clientele of professionals, business executives and working or retired individuals.
Gives speeches and seminars on various financial themes on a regular basis.
At Desjardins Securities since 2001, with "Emeritus Advisor" recognition in 2004 and 2005.
Mission
Being on the lookout for opportunities and finding innovative solutions for fulfilling our clients' financial aspirations.
Building a long-term relationship of trust by providing customized, dynamic consulting, a discipline approach and financial strategies to fit the needs of an affluent clientele.
Investment Philosophy
Risk management and capital preservationFootnote 1 lie at the heart of our management philosophy. These goals heavily influence our investment decisions. Our balanced approach and our strategic decisions aim for long-term growth of investments while seeking to minimize volatility. We plan diligently based on each client's profile, investment comfort zone and financial and tax position.
Our priority: understanding clients' needs clearly during the various stages of their lives to make recommendations for overall investment strategies in line with their goals, keeping integrity, discipline and transparency in mind.
What sets us apart
Our clients' satisfaction is a priority. This is why we are attentive to your needs and committed to offering you peace of mind by providing flexible management and effective follow-up. The synergy of our skills and close collaboration with our clients enables us to find complete, well documented solutions that will meet your expectations and inform your decisions.
Our multidisciplinary team uses modern techniques, advanced tools and unique models to provide customized wealth management advice and solutions for reducing the tax impact. In addition, our excellent reputation and our availability result in our clients frequently recommending us to people around them.
Values
Vision 
Dynamism
Excellence 
Integrity
Professionalism
Service Offer
Wealth management
Fee-based (Elite Program) and trade-based management
Registered plans: RRSP, LIRA, RRIF, LIF, RESP, SSP II, TFSA, RDSP, VRSP
Retirement income projection
Investment strategy: Bonds, stripped coupons, GICs and term deposits, preferred shares, stocks on North American and global exchanges, options (management of hedging risk and increased income), exchange-traded funds, investment funds, hedge funds, tax shelters and income splitting
Internet-based access to your portfolio
Financial planning

Footnote

2, international transfers, tax and estate planning

Footnote

2, family and testamentary trusts

Footnote

2
Biographies of my colleagues
Martin Otis

,

BBA

Associate Advisor

T 514-281-6862

Languages: French, English

Mr. Otis holds a bachelor's degree in business administration with a finance major from HEC Montréal. He has also obtained a technical certificate in business management. He is a Level 3 candidate for designation as a Chartered Financial Analyst. He worked in the Desjardins Caisse network before joining Céline Coutu's team at Desjardins Securities.
Location
Desjardins Securities at Laval
3055, boulevard St-Martin Ouest
Suite T440
Laval (Québec) H7T 0J3
450-682-5858 Toll-free : 1-800-449-7881Fax : 450-682-6474
Route
List of investment advisors
Back to top