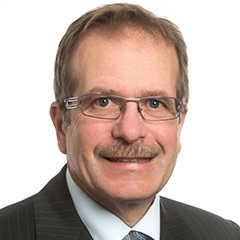 Claude Choinière

, MBA, CFP®

Investment Advisor

T 450-682-6745

Languages: French, English
Biography
Mr. Choinière has worked in the financial services field for more than 25 years. He holds a MBA from the Université du Québec à Montréal and the Financial Planner designation from the Institut québécois de planification financière (IQPF). With his skill and expertise, he is able to offer his clients an integrated and structured approach in managing their wealth and helping them achieve all their life goals.
Mission
To offer you my expertise and access to my network of experts so that you and your family can realize your life projects.
Investment Philosophy
As a financial planner and an investment advisor, it is essential that I properly structure your portfolio in line with your investor profile and your tolerance for volatility. In order to minimize stock selection risk, I favour exchange-traded funds and active management through mutual funds.
I sincerely believe that specialists add value. As an advisor, my role is to ensure adequate sector or geographic diversification of your portfolio by offering you investment solutions managed by the most successful, highly reputed managers in the industry.
I seek to obtain an optimal return after taxes, or government grants, because I prefer to maximize tax efficiency rather than increase portfolio risk.
What sets us apart
I am committed to helping my clients implement their financial plan to enable them to realize all their projects. With a simple, effective and practical approach, I look after their interests while they nurture passions.
Values
Integrity and loyalty: To know you well and constantly prioritize your interests.
Respect and transparency: To act according to your decisions while supporting you in an informed and facilitative manner.
Professionalism and partnership: To offer you my best professional services and those of my partners by building a lasting relationship of trust.
Service Offer
My service offer is tailored to the needs and objectives of each of my clients.
I offer you assistance that meets your specific needs at each stage of your life. I take a disciplined and comprehensive approach that covers all aspects of your personal finances: savings, investment strategy, taxation, etc.
Location
Desjardins Securities at Laval
3055, boulevard St-Martin Ouest
Suite T440
Laval (Québec) H7T 0J3
450-682-5858 Toll-free : 1-800-449-7881Fax : 450-682-6474
Route
List of investment advisors
Back to top