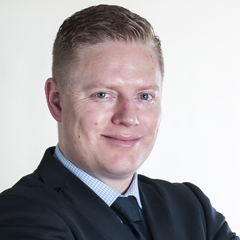 Éric Fleury
Investment Advisor
T 514-426-1425
Languages: French, English
Biography
With his 15 years' experience in the finance sector and his great passion for the stock market, Mr. Fleury helps his clients set suitable allocations in their portfolios, diversify their assets and find market opportunities. His commitment to developing smart strategies and his investment management philosophy work together to generate constant net cash flows while providing prudent growth to his clients.
Mission
Helping entrepreneurs with their investments and their projects for the future
As an investment advisor, I have the privilege of working with a distinguished client base. I am honoured that they entrust the management of their finances to me.
My professional life is devoted to helping people invest and plan their futures. The relationship I have established with my clients means a lot to me, at both the professional and personal levels.
I seek to adopt my clients' points of view and to explain the key concepts clearly to them without swamping them in incomprehensible jargon. This lets my clients make the right decisions, in an informed way.
As a partner in the extensive network of multidisciplinary professionals at Desjardins Securities, I am able to provide solutions intended to enhance and protect my clients' wealth. I share my clients' passion for aiming to succeed. Making their dreams come true is the cornerstone of my approach.
I look forward to the opportunity to guide you toward a prosperous future.
What sets us apart
Distinction: Personalized approach.
Service Offer
Full range of products and services.
Stocks, bonds, exchange-traded funds, mutual funds.
Location
Desjardins Securities at Pointe-Claire
1 Holiday Avenue
Tour Ouest, Suite 500
Pointe-Claire (Québec) H9R 5N3
514-426-2260 Toll-free : 1-866-426-2260Fax : 514-426-4094
Route
List of investment advisors
Back to top