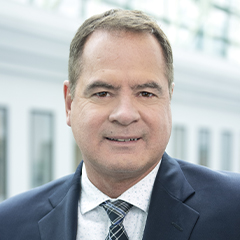 Ghislain Théberge

, FCSI®, C. Adm

Branch Director

T 418-650-6350 ext. 5025259

Languages: French
Biography
Mr. Théberge began his career as an investment advisor in 1987. Since 1999, he has been manager of the Sainte-Foy branch of Desjardins Securities, a branch with 23 advisors and more than 13 administrative support staff.
His role is to guide you in the selection of an advisor, taking account of your investor profile, your financial needs and your risk tolerance. Feel free to contact him: his advice may direct you to the person who best meets your wealth management requirements.
Mission
The mission of the Sainte-Foy branch is to ensure you that you work with the best investment advisors in the industry.
Three criteria accurately describe their aptitudes:
Professionalism
Skill
Proactive approach
Investment Philosophy
The team of advisors of the Sainte-Foy branch is qualified to meet your financial needs effectively. Our advisors have the expertise required to adapt your portfolio in keeping with your risk tolerance and your investment horizon, using a broad array of financial products.
What sets us apart
Listening to you and getting a good understanding of your needs form the initial step in giving you good advice. At the Sainte-Foy branch of Desjardins Securities, each client is unique.
Values
All our advisors have something in common: they are committed to your financial success!
And our values show it: rigour, ethics and passion.
Service Offer
We meet your financial needs through traditional brokerage, with fee-based or discretionary management, and we do all it takes to help you fulfil your goals.
Location
Desjardins Securities at Sainte-Foy
Place de la Cité - Tour Cominar
2640, boulevard Laurier, Suite 1400
Québec (Québec) G1V 5C2
418-650-6350 Toll-free : 1-800-361-6006Fax : 418-650-5159
Route
List of investment advisors
Back to top