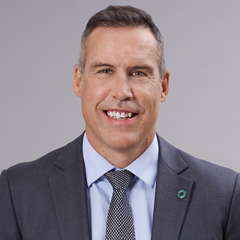 Guy Lehoux
Investment Advisor
T 1-888-883-4588 ext. 5072201
Languages: French, English
Biography
Began his career in the financial services industry in 2010
Joined Desjardins Securities in 2014
"Best Business practices" award in 2014
Areas of expertise: client relations and wealth management
Noël Girard Lehoux
Excellence Accreditation
Excellence accreditation attests that the investment advisor's services meet the highest standards of quality in order to offer you an unparalleled experience in meeting your financial needs. This distinction is awarded exclusively to Desjardins Securities investment advisors who participate in a continuous development and improvement program.
Mission
We wish to be at the heart of your wealth management strategies while establishing a trusting ongoing relationship.
We offer you the best of ourselves and what is best. At all times.
What sets us apart
We offer you a service that goes well beyond your expectations. We strive to always give you more!
Our support in managing your assets is very reassuring, as we look after all aspects.
As a matter of fact, we take care of everything.
Our high quality service will give you the peace of mind you need as you are our priority.
Values
TRUST
Being worthy of the confidence you have placed in us by entrusting us with the management of your financial future.
INTEGRITY
This value is at the root of the transparency and honesty we exercise every day.
RIGOR
It is at the heart of our business management, in our follow-ups as well as in our portfolio management.
STRIVING FOR EXCELLENCE
With our personalized approach, we always do more for you and your family.
Biographies of my colleagues
Mélanie Noël

, BBA, CIM®

Investment Advisor

T 1-888-883-4588 ext. 5072227

Languages: French, English

Bachelor's degree in business administration from the Université de Sherbrooke
Chartered Investment Manager designation from the Canadian Securities Institute
Began her career at Desjardins Securities in 1998
Team Merits Recognition in 1998, 2001, 2003, 2004 and 2005
"Best Business practices" award in 2008-2009 and in 2014
Areas of expertise: client relations and wealth management

Luc Girard, MBA, CIM®

Portfolio Manager, Investment Advisor

T 1-888-883-4588 ext. 5032024

Languages: French, English

MBA from the Université de Sherbrooke
Chartered Investment Manager designation from the Canadian Securities Institute
Began his career in 1993
Director of Desjardins Securities Portfolio Advisory Group from 2004 to 2011
"Best Business practices" award in 2014
Areas of expertise: portfolio management and market visions

Huguette Parent,

Associate Advisor

T 1-888-883-4588 ext. 5072250

Languages: French

• Canadian Securities Course
• Joined Desjardins Securities in 2004
• "Best Business Practices" award in 2014
• Areas of expertise: client relations and transactions



Kasandra Ruel-Gilbert,

Investment Assistant

T 1-888-883-4588 ext. 5072220

Languages: French, English

• Canadian Securities Course
• Joined Desjardins Securities in 2014
• "Best Business Practices" award in 2014
• Areas of expertise: account administration
Locations
Desjardins Securities at Brossard
Quartier DIX30 - Le Square
9120, boul. Leduc, bureau 205
Brossard (Québec) J4Y 0L3
450-671-6788 Toll-free : 1-888-883-4588Fax : 450-671-6280
Route
List of investment advisors
Desjardins Securities at Sherbrooke
300, rue Belvédère Nord
Suite 201
Sherbrooke (Québec) J1H 4B1
819-820-2999 Toll-free : 1-800-668-2999Fax : 819-820-2513
Route
List of investment advisors
Back to top