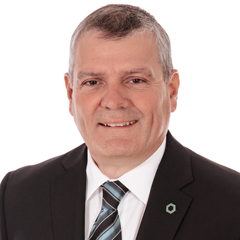 Jasmin Munger

, BBA

Investment Advisor

T 418-280-1204 ext. 5112038

Languages: French
Biography
Holder of a Bachelor of Business Administration degree in Finance from Université Laval, Jasmin Munger has 20 years of experience as an investment advisor. He also worked for an accounting firm for several years, specializing in taxation for individuals and businesses as well as financial and tax planning.
He has successfully completed the following Canadian Securities Institute (CSI) courses:
Canadian Securities Course
Professional Financial Planning Course
Conduct and Practices Handbook Course
Derivatives Fundamentals Course
He has also obtained two certificates of excellence (ranking in the first centile in Canada) for his outstanding success on the Derivatives Fundamentals and Conduct and Practices Handbook examinations.
Mission
To leverage his experience and his knowledge to serve his clients and give them peace of mind concerning their investments and the management of their wealth.
Investment Philosophy
Favour profitable investments over the long term while emphasizing capital preservation.
What sets us apart
Investment strategies tailored to each client, taking into account their objectives and their risk tolerance. Effective asset allocation and sound diversification, combined with a thorough and rigorous analysis of investments, in order to maximize returns. Lastly, extensive accounting experience that enables him to minimize the taxes paid by his clients through tax efficiency.
Values
Attentiveness and respect
Integrity and transparency
Rigour and discipline
Accessibility and availability
Service Offer
His full-service licence enables him to offer his clients a complete range of products:
Common shares and preferred shares
Fixed-income securities (bonds, strip coupons, GICs)
Mutual funds (Fidelity, Manulife, CI, etc.)
Trust units
Structured products
TFSAs, RRSPs, RRIFs, RESPs
The services offered include regular investment portfolio monitoring, retirement planning, and tax, financial and estate planning assistance.
Location
Desjardins Securities at Baie-Comeau
990, Laflèche boulevard
2nd Floor
Baie-Comeau (Québec) G5C 2W9
418-280-1204 Toll-free : 1-844-418-2457Fax : 418-280-1202
Route
List of investment advisors
Back to top