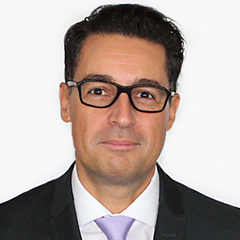 José Contant
Investment Advisor
T 418-650-9410 ext. 5025257
Languages: French, English
Biography
One of José Contant's biggest assets is his vast knowledge of the stock markets. Thanks to the experience he's acquired during financial crises and challenging economic times, he's become a seasoned advisor.
Mr. Contant is pleased to offer business and individual clients a wide range of investment products that meet their various needs.
He has completed the Canadian Securities Institute's Canadian Securities Course (CSC®) (honours certificate), Professional Financial Planning Course and Conduct and Practices Handbook Course.
Mission
Over the years, Mr. Contant has developed into a prudent investment advisor capable of rising to the challenges of economic crises. His goal is to continually provide his clients with expert advice so they can achieve their financial goals, in good times and in bad.
Investment Philosophy
Mr. Contant prefers to diversify rather than focus on a single investment. He's also a huge proponent of keeping it simple. In other words, he wants his clients to know exactly what they're investing in. He doesn't suggest complex products that are hard to explain and understand.
What sets us apart
Mr. Contant is very people-focused. For him, there's a lot more to it than just numbers and financial products; it's about helping his clients plan for the future and achieve their goals. He prides himself in building solid and lasting relationships with his clients by listening carefully to what they have to say.
He strives to help his clients find tax-efficient solutions that will maximize their net after-tax returns.
With the help of his trusted administrative assistant, Josée Hamel, he's able to stay on top of everything and provide clients with top-notch service. Clients can count on both of them to apply their best business practices training to the letter!
Values
Ethics, active listening, prudence, simplicity and experience.
Service Offer
Bonds, GICs, Quebec Savings bonds (registered accounts), shares, preferred shares, mutual funds, private pools, discretionary management, flow-through shares and much more.
Location
Desjardins Securities at Sainte-Foy
Place de la Cité - Tour Cominar
2640, boulevard Laurier, Suite 1400
Québec (Québec) G1V 5C2
418-650-6350 Toll-free : 1-800-361-6006Fax : 418-650-5159
Route
List of investment advisors
Back to top