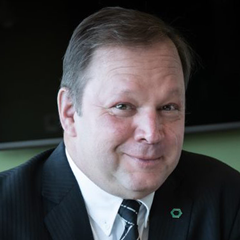 Pierre Sanscartier

, BBA, CPA, CMA

Investment Advisor

T 450-682-6487 ext. 6487

Languages: French, English
Biography
• Senior advisor
• Investment advisor for more than 18 years
Pierre is a financial markets expert who's been a member of the Cercle du Président since 2011. This distinction recognizes his expertise, the quality of the service he provides and his exceptional contributions to Desjardins Securities over the years.
Pierre's responsibilties include making decisions on asset allocation and coordination.
Thanks to his strong analytical thinking skills, he's able to develop investment strategies for his clients. He also plays a lead role in investor relations.
Pierre Sanscartier Team
Mission
We're here to help you every step of the way.
Our mission is to use a balanced investment strategy to help our clients achieve financial well-being in line with their current and future needs and give them peace of mind.
Investment Philosophy
Your financial success relies on sound, transparent and structured financial management tailored to your particular needs, all at the best cost. 
What sets us apart
We're a strong team that works very well together.
What's so special about us is that we quickly earn your trust. We're genuine, we listen and we're always here for you. Our priorities include providing excellent customer service and building lasting business relationships with our clients.
Values
Availability
You're our top priority. We're here to listen and help you whenever you need us. You can always count on us for advice and solutions in line with your needs.
Discipline
Because our approach and client follow-ups are very disciplined and thorough, we're able to earn our clients' trust.
Integrity
You can count on us to be clear, consistent and respectful. Our everyday integrity means even greater transparency for you.
Respect
Respect is in our DNA. We respect your investment objectives, investor profile, risk tolerance and most importantly, you!
Service Offer
Our team is pleased to offer you a wide-range of wealth management products and services:
Banking solutions
Credit
Mortgages
Current accounts
 Insurance
Life
Disability
Health and critical illness
Risk and P&C
Annuities
 Estate
Wills
Mandates in case of incapacitych
Trusts
Estate planning
Foundations
 Financial planning
Comprehensive, integrated planning
Retirement planning
RRSP/RRIF/LIF/LIRA
Individual pension plans
 Portfolio management
Desjardins Securities discretionary management portfolio
Elite Program (fee-based) portfolio
Transactional portfolio
Biographies of my colleagues
Josée Blanchette

,

Investment Advisor

T 450-682-6646 ext. 6646

Languages: French, English

• Over 25 years of experience in securities
• Investment advisor since 2011

Josée is proactive, dynamic and passionate about everything finance. Her responsibilities include helping to develop investment strategies.
She's committed to always finding ways to improve our business processes.
She also plays a key role in investor relations.

Chantal Demers,

Investment Assistant

T 450-682-6042

Languages: French, English

• Over 20 years of experience in securities.
• Part of the team since 2016

Chantal coordinates events for the team and our operations. She's also responsible for optimizing processes.
She provides unparallelled administrative support to our team and exceptional service to our clients.

Stéphanie Paquet,

Advisor Assistant

T 450-682-3046

Languages: French

• With Desjardins Securities since 2011
• Part of the team since 2014

Stephanie handles the administrative side of the business by greeting clients and setting up appointments.
She prepares files for meetings and is involved in the creative aspect of our initiatives.
Location
Desjardins Securities at Laval
3055, boulevard St-Martin Ouest
Suite T440
Laval (Québec) H7T 0J3
450-682-5858 Toll-free : 1-800-449-7881Fax : 450-682-6474
Route
List of investment advisors
Back to top