Advisory Branch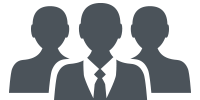 Mission
Understanding your financial needs clearly to offer you first-rate support and a positive experience in your wealth management.
Investment Philosophy
Our investment philosophy is based on sound asset diversification in keeping with your investor profile.
An investment policy adapted to your profile
A customized allocation of your assets
Rigorous monitoring of the markets and of your portfolio
What sets us apart
Our team with its experience and expertise in financial markets ensures you, through our protocol, of superior customer experience and unique care in managing your wealth.
Values
Integrity, prudence, attentiveness, sharing of knowledge, proactive approach.
Service Offer
Professional wealth management
Development of an investment strategy to suit your profile
Superior customer service
Rigorous monitoring of your portfolio
Business partners to meet your additional wealth management needs
Biographies of my colleagues
Location
Desjardins Securities
1170, Peel Street
Suite 300
Montréal (Québec) H3B 0A9
514-842-8379 Toll-free : 1-877-743-7712Fax : 514-985-1849
Route
List of investment advisors
Back to top