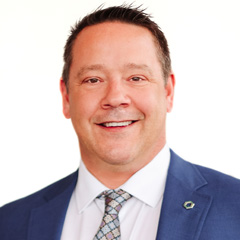 Stéphane Brennan

, B.Sc., CIM®, F. Pl

Portfolio Manager, Investment Advisor

T 450-223-1344

Languages: French, English
Biography
Mr. Brennan has more than 16 years' experience in finance, including eight years in the securities field.
Bachelor's degree in administration from HEC Montréal (B.Sc.)
Designated a financial planner (Pl. Fin.) by the Institut québécois de la planification financière (IQPF)
Chartered investment manager (CIMMD)
Holds an options licence.
2003 recipient of the Victor-Dumais Trophy issued by the Chambre de la Sécurité Financière for his contribution to the profession's standing in his region
2007 recipient of a certificate of excellence issued by senior officers of the financial institution where he then worked (BMO Nesbitt Burns)
Mr. Brennan chairs the board of governors of the Saint-Hyacinthe vocational school. He also chaired the board of directors of the CÉGEP de Saint-Hyacinthe and was vice-president of the Chambre de commerce et de l'industrie les Maskoutains. In 2012, he was a member of the board of directors of the Centre local d'emplois Maskoutains (local job centre).
Brennan Group, Portfolio Manager
Your capital is important, and we know this, which is why we offer made-to-measure investment strategies that fit your reality and your expectations.
To meet your needs effectively, we carefully examine every aspect of your personal, professional and financial position. Our sole aim is for your portfolio to reflect your investor profile.
We then conduct a periodic review of your assets and make any required adjustments.
At all times, we provide full collaboration with other specialists you deal with, such as accountants, lawyers, financial planners or insurers.
Mission
Guiding our clients in meeting and fulfilling their financial goals by handling their investments through a comprehensive wealth management approach.
Investment Philosophy
Seeking a long-term business relationship, the professionals of the Brennan
Group favour a personalized approach:
Establishment of an investor profile, analysis of needs and determination of the goals to be met.
Presentation of an investment strategy and creation of a portfolio.
Follow-up of the portfolio's performance and assessment of results and of client satisfaction.
What sets us apart
The Brennan Group is noted for its value-focused approach and for the rigour of its work methods.
The group's experienced managers also stand out from their competitors through their transparency in trading, performance, fees and sharing of information. They have extensive experience in portfolio management.
Values
Honesty, integrity, transparency.
Service Offer
Independently selected investments (bonds, stripped coupons, corporate class investment funds, and others)
Tax-advantaged products (flow-through shares, corporate class investment funds, and others)
New issues
Fee-based accounts
Discretionary portfolio management
Biographies of my colleagues
Barbara Beugger

,

MBA, F. Pl

Investment Advisor

T 450-223-1302

Languages: German, French, English

More than 23 years with Desjardins, including 15 as a financial planner
Certified financial planner with a master's degree in business administration
Six-time winner of the Podium Performance Plus award for Richelieu–Yamaska, and three-time recipient of the Desjardins golden pin, awarded to the top financial planners across the province

Mylène Vézina,

Investment Assistant

T 450-223-1449

Languages: French

More than 20 years' experience in customer service.
Successfully completed the Canadian Securities Course.

Marie-Pierre Voghel,

Advisor Assistant

T 450-223-1004 ext. 5091008

Languages: French

Over 6 years in the caisse network
Over 10 years of experience in customer service
Location
Desjardins Securities at Saint-Hyacinthe
1395, Daniel-Johnson East Street
Suite 201
Saint-Hyacinthe (Québec) J2S 7Y6
450-223-1673 Toll-free : 1-888-313-6150Fax : 450-223-1677
Route
List of investment advisors
Back to top