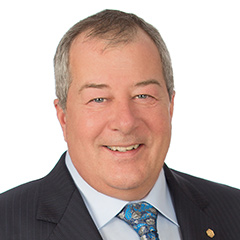 Stéphane Lapointe

, B.A.

Vice-President, Investment Advisor

T 450-777-8044 ext. 5122010

Languages: French, English
Biography
Mr. Lapointe, who holds a bachelor's degree in economics from the Université de Sherbrooke as well as training in options and futures, has more than 28 years' experience in finance. He has been at Desjardins Securities for more than 20 years, including nine years as a branch manager, and was named vice-president in 2003. Here is how he sees himself:
"I define myself as a professional who shows integrity, energy and directness. I act decisively and get straight to the point. Generous with my time and advice, I admire transparency, candour and clarity. I maintain continual and sincere communications with my clients."
Mission
Contributing to the growth of your assets and the preservation of your capital.
Investment Philosophy
Our strategy relies on two principles: prudent management, and applying means to minimize your annual tax impact. In our day-to-day management, your long-term goals serve to guide us in our recommendations: we do not let ourselves be distracted by sporadic fluctuations or passing fads. We aim for the protection and appreciation of your capital.
We expect you will approve of this discipline. After moving beyond this step, we select high-quality products for you that meet your overall needs through interest or dividends.
What sets us apart
Our wealth management expertise will help you minimize tax impacts, letting you retire in comfort and eliminate the fear of being short of money.
Values
To produce the desired results, your investment strategy must derive from a rigorous financial plan.
With a comprehensive view of your current and future financial position, you can make informed decisions.
It is important for you to understand the characteristics of the products we are recommending and to see for yourself if they fit your needs.
We believe that, beyond money, there are people. And there is you.
Service Offer
Our solutions


Services
Wealth management
Elite fee-based program
Darwin discretionary portfolio management
In collaboration with Desjardins Securities Financial Services
Tax, financial and estate planning
Retirement planning
Personal insurance
Charitable gift annuities
Trust and estate services

Products
RRSPs and LIRAs
Tax-free savings accounts
Canadian and U.S. equities
Fixed-income securities: strip bonds, corporate, municipal and government bonds
Biographies of my colleagues
Lise Laflamme

,

Investment Assistant

Languages: French

Ms. Laflamme has worked at Desjardins Securities since 1997 and is an investment assistant.

She is in charge of file management and customer service, and she is recognized for her extensive technical knowledge and her courtesy.
Location
Desjardins Securities at Granby
450 rue Principale
Suite 100
Granby (Québec) J2G 2X1
450-777-8004 Toll-free : 1-800-830-8004Fax : 450-777-0783
Route
List of investment advisors
Back to top