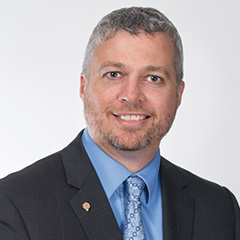 Alain Robitaille

, CIM®

Portfolio Manager, Investment Advisor

T 819-333-3179

Languages: French, English
Biography
An investment advisor at Desjardins Securities for nearly six years, Mr. Robitaille also has a solid background in business financing and services. In addition, he gained management experience as co-owner of a business for more than 10 years.
His skills and contribution are recognized at Desjardins Securities: he was named Rookie of the Year in 2008-2009 and Best Hope in 2009-2010. Admitted to the Desjardins Securities President's Circle in 2009, 2010, 2011, 2012 et 2013, Mr. Robitaille has a passion for seeking out quality companies on the Canadian and U.S. markets, for investing in accordance with the principles set out by Warren Buffett.
A business administration graduate from the Université du Québec en Abitibi-Témiscamingue, Mr. Robitaille holds the title of Chartered Investment Manager and stood out in completing the Canadian Securities Course.
Robitaille Group
Excellence Accreditation
Excellence accreditation attests that the investment advisor's services meet the highest standards of quality in order to offer you an unparalleled experience in meeting your financial needs. This distinction is awarded exclusively to Desjardins Securities investment advisors who participate in a continuous development and improvement program.
The Robitaille Group provides a full range of professional services in investment management as well as an array of wealth management services.
Our model portfolios are devised to meet the needs of affluent investors who, rather than manage their assets on their own, prefer to entrust full responsibility to us.
Mission
Our mission consists of guiding our clients toward fulfilling their long-term financial goals by offering them advice and services to fit their situation.
When we invest for our clients, we manage risk just as we would do so for ourselves.
Investment Philosophy
Prudence and stability characterize our management. Based on a long-term view, we adopt a strategy that is clearly thought out, and we remain focused, never straying off course.
We aim for faster capital growth than the benchmark indices while limiting risk. This philosophy suggests holding quality stocks at reasonable prices for extended periods as well as holding index funds. This leads to lower volatility and helps avoid the tax charges that often stem from frequent trading.
What sets us apart
A strong team, distinctive investment solutions, with peace of mind assured
Passionate, attentive and devoted, we help you fulfil your long-term goals by offering you pertinent advice and top-of-the-line wealth management services. Our strategic, rigorous and disciplined approach earns us frequent expressions of satisfaction. Our clients also appreciate our ethical concern and our transparency, which inspire trust.
We pay close attention to financial and economic news, and we spare no effort in guiding you in the optimization of your investments.
Values
Profitability and performance
We believe in the importance of investing in profitable companies that show positive balance sheets. These well performing companies, always a wise investment, provide strong growth potential. We see this as the most sensible way to invest on the stock market, and we avoid stocks of only fleeting attraction.
Rigour and reflection
Based on our own criteria, we analyze recommendations from the various sources to which we have access. In our view, the best way of avoiding errors consists of applying a rigorous selection method combined with independent thinking on economic issues.
A distinctive and transparent offer
We build unique portfolios to meet the needs of our mostly affluent clients. Our distinctive offer changes constantly to offer a wider range of strategies. Our fee-based rate structure is transparent and fits our clients' needs.
A long-term process
Our long-term investment process and our objectivity help let our clients gain from market volatility. In our view, the times when everyone is afraid to invest are when the best opportunities arise.
Ethical choices 
Beyond standards and regulations, there are ethics. We take no action that is not clearly understood by our clients and is not to their advantage. We do not buy speculative stocks, and we protect our clients' room for manoeuvre by favouring investments unencumbered by exit fees.
Service Offer
Our service offer provides access to:
Biographies of my colleagues
Fanie Ouellet

, MBA, CIM®

Portfolio Manager, Investment Advisor

T 819-732-7838

Languages: French

Ms. Ouellet holds a bachelor's degree in applied science and a master's degree in business administration from Université Laval. She acquired her expertise in commercial financing at the Desjardins Financial Centre where she worked for seven years. She joined Desjardins Securities as an investment advisor after completing the required training, and she has worked with the Robitaille Group since 2012.

Marcel Robitaille, B.A., F. Pl

Investment Advisor

T 819-732-7838

Languages: French, English

Marcel is an accredited financial planner. He gained solid investment and asset management experience at Desjardins, and joined the Robitaille Group in 2015. He has a multidisciplinary bachelor's degree from Université Laval.

Marcel will help enhance your overall financial situation, always making your needs and interests a priority. You can trust his expertise, knowing that your assets are being invested, for the long term, in exceptional companies—according to the principles of Warren Buffett.

Josée Houle,

Associate Advisor

T 819-333-3148

Languages: French, English

Ms. Houle joined the Robitaille Group at Desjardins Securities in November 2010. She has held the position of investment advisor since May 2011, after completing the Canadian Securities Course. She holds a college diploma in administration and has more than 25 years' experience in sales management, consulting and customer relations.

Originally from La Sarre, in the western part of the Abitibi region, she began her career in the financial field in 2007 as a personal finance advisor and group savings representative for a Desjardins Caisse in the region. Ms. Houle regards professionalism and diligence as essential qualities for maintaining a relationship of trust with clients. She applies these principles rigorously in performing both her advisory and administrative duties as well as in the way she handles the monitoring of files and the management of investments.

Guylaine Beaudoin,

Investment Assistant

T 819-333-3148

Languages: French

Guylaine has a bachelor's degree in business administration (finance option) from Université de Sherbrooke and has worked as an advisor in the financial services sector since 2006. She joined our team in September 2014.

She draws on her personal finance experience to understand your needs and provide service that exceeds your expectations.

Pascale Lepage,

Investment Assistant

T 819-333-3148 ext. 5104301

Languages: French

Pascale has worked in the securities field since 2000: first as a coordinator at the Rouyn-Noranda branch, where she was responsible for compliance for all of the Abitibi-Témiscamingue branches; then, in 2005, as an investment assistant.
With her excellent organizational skills and strong commitment to clients, you can count on Pascale to provide you with exceptional service.

Nathalie Gagné,

Advisor Assistant

T 819-732-7838 ext. 5104320

Languages: French

Nathalie has 31 years of experience with Desjardins Group: first with Caisse Desjardins d'Amos and then, as an assistant in a Desjardins Business centre for 18 years.

She joined Desjardins Securities in April 2015, catering to your needs and providing support to advisors.

Vinh Jutras, CFA, ASA

Investment Advisor

Languages: French, English

After studying actuarial science and gaining 7 years of experience in this field, Vinh started focusing on investments—his real passion!

He then worked in risk management at the Autorité des marchés financiers and obtained his CFA designation. Next, he joined the transactions team and traded more than $100 billion in securities and currencies.

With his extensive experience in finance and investment for institutional clients, he decided to focus on personal clients by joining Groupe Robitaille. This team stands out for its vision and investment philosophy using a qualified value investing approach based on Warren Buffett's principles. His main priority is to make a positive difference in your life and financial situation.

 
Locations
Desjardins Securities at Amos
4, rue Principale Nord
Bureau 103
Amos (Québec) J9T 2K6
819-732-7838 Toll-free : 1-888-732-7838Fax : 819-732-7870
Route
List of investment advisors
Desjardins Securities at La Sarre
66, 5e avenue Est
La Sarre (Québec) J9Z 1K9
819-333-3179 Toll-free : 1-855-333-3148Fax : 819-333-3407
Route
List of investment advisors
Desjardins Securities at Rouyn-Noranda
75 boulevard Québec
2nd floor
Rouyn-Noranda (Québec) J9X 7A2
819-797-5525 Toll-free : 1-800-797-5525Fax : 819-762-3950
Route
List of investment advisors
Back to top