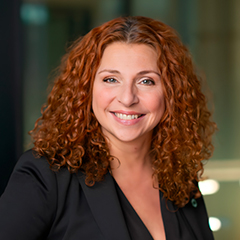 Catherine Tremblay

, F. Pl

Investment Advisor

T 450-223-1953

Languages: French
Biography
Certificate in financial planning from Université Laval.
More than 15 years' experience as a financial planner at Mouvement Desjardins.
With her natural empathy and availability, Ms. Tremblay shows levels of devotion and attention that are appreciated both by clients and by team members.
Role on the team: wealth management and business development.
Laflamme-Tremblay Team
Excellence Accreditation
Excellence accreditation attests that the investment advisor's services meet the highest standards of quality in order to offer you an unparalleled experience in meeting your financial needs. This distinction is awarded exclusively to Desjardins Securities investment advisors who participate in a continuous development and improvement program.
Known for its expertise and courtesy, the Laflamme-Tremblay Team can guide you in managing your family assets and provide advice to help maximize your wealth. Our clientele consists of affluent and wealthy families as well as entrepreneurs and retirees from all professional backgrounds with at least $500,000 to invest.
Mission
Guiding you in the management of your wealth, at every stage of your life.
Investment Philosophy
Our investment philosophy is aimed at protecting and optimizing your capital and at reducing risk to achieve long-term results.
Our rational and disciplined investment philosophy enables us to stay on course under all circumstances.
What sets us apart
Tax efficiency
Innovative model portfolios
Customized asset allocation
Close collaboration with the caisses in the region
Transparency regarding compensation
Values
We firmly believe that values of integrity and professionalism form the basis of a long-term business relationship, characterized by respect and trust.
Service Offer
After analyzing your needs and determining your investor profile, we develop a plan that includes: investment management, tax optimization, retirement projection, estate planningFootnote 1 and wealth transfer, all developed in accordance with your goals and constraints.
We are committed to rigorous monitoring of movement in your portfolio and your financial position.
Biographies of my colleagues
David Laflamme

, BBA, CIM®

Portfolio Manager, Investment Advisor

T 819-477-7143

Languages: French

Mr. Laflamme holds a bachelor's degree in business administration from HEC Montréal. He began at Desjardins Securities in 1999 as an investment advisor. This year he obtained the title of Chartered Investment Manager (CIM®) from the Canadian Securities Institute.

In 2012, among the 300 investment advisors at Desjardins Securities, David Laflamme was awarded a distinction for "Top three-year portfolio performance and best investment philosophy." The performance evaluation period ended on August 31, 2012, and David Laflamme's portfolio management registration opened on July 4, 2014.

His role on the team: portfolio management and meetings with clients.

Johanne Allard,

Associate Advisor

T 819-477-7036

Languages: French

Certificate in financial planning from the Université du Québec à Trois-Rivières.
Has worked more than 30 years at Mouvement Desjardins, including eight years at Desjardins Securities.
Likes working in a well organized environment, and is quick to come up with ways of improving productivity and efficiency.

Role on the team: client service and operations management.
Location
Desjardins Securities at Drummondville
330, rue Cormier
Suite 101
Drummondville (Québec) J2C 8B3
819-477-7100 Toll-free : 1-800-335-0929Fax : 819-477-6851
Route
List of investment advisors
Back to top