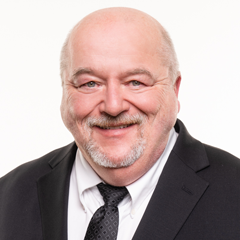 Douglas Johnston

, CIM®, A.I.C.B.

Vice-President, Portfolio Manager, Investment Advisor

T 450-263-8010

Languages: French, English
Biography
Working in the financial services field since 1981, Mr. Johnston earned a certificate as an associate of the Institute of Canadian Bankers at Concordia University. Designated a Chartered Investment Manager (CIM®), he also extends his training through continuing education. Mr. Johnston was director of personal banking services at the largest Canadian chartered bank and has a passion for finance.
In the securities industry since 1993, he has held the position of Vice-President and Branch Manager with national brokerage firms before joining Desjardins Securities. Recognized early on as a top-performing advisor, Mr. Johnston offers his clients service beyond the ordinary.
Active in the community, he is a member of the boards of directors of the La Maison Au Diapason palliative care organization.
JFS Group
Excellence Accreditation
Excellence accreditation attests that the investment advisor's services meet the highest standards of quality in order to offer you an unparalleled experience in meeting your financial needs. This distinction is awarded exclusively to Desjardins Securities investment advisors who participate in a continuous development and improvement program.
Skilled and experienced, the members of our team have varied and complementary areas of expertise: banking, accounting, tax matters and securities trading. The team's years of diversified experience are applied with the sole aim of meeting your goals.
Mission
Standing alongside you and guiding you at every stage of your life to build your wealth.
Investment Philosophy
We use sophisticated technical tools to make rational decisions, without ever yielding to emotion or to passing fads that stir the markets from time to time. This discipline protects us from common errors that investors may commit: excess haste, sudden impulses, impatience or holding declining assets in the unlikely hope of breaking even. With us, each trade is based on technical data and reliable statistics.
What sets us apart
Our many years of varied and complementary experience are fully applied to fulfilling your goals. Our pride is based on offering the highest levels of professionalism and service in our relationships with our clients.
Values
Ethics
Rigour
Transparency
Integrity
Service Offer
Our service offer stands out, among other factors, for rigorous execution and for including outside expertise found nowhere else, such as our consulting services in philanthropy and non-traditional wealth diversification (woodlot analysis and management, and our wine steward service). We also have service agreements and advice in testamentary trusts, in vivo trusts and even land trusts.
Biographies of my colleagues
Francis Soucy

, CIM®, CPA, CMA

Portfolio Manager, Investment Advisor

T 450-263-8192

Languages: French, English

Wealth management has been Mr. Soucy's passion since 2004. After earning a bachelor's degree in accounting at the Université de Sherbrooke, he specialized in finance, especially in portfolio management.

Each day, he feels privileged to fulfil his passion for finance. He chose this trade for people, he chose his region (Frelighsburg) for people, and he has chosen to excel for them.

Andrée Couture, F. Pl

Investment Advisor

T 450-263-2014

Languages: French, English

Daniel Lettre,

Investment Advisor

T 819-820-2999 ext. 5072222

Languages: French, English

Mr. Lettre holds a B.A. from the Université de Sherbrooke and has been an investment advisor for more than 30 years. During this time, extraordinary changes have occurred in the financial field. This has led him to write a book on the topic called Le jeu de l'argent, revisiter l'art d'investir (available in French only), published in 2014 and providing thoughts on money management in the 21st century.

Stéphane Lapointe, B.A.

Vice-President, Investment Advisor

T 450-777-8044 ext. 5122010

Languages: French, English

Mr. Lapointe, who holds a bachelor's degree in economics from the Université de Sherbrooke as well as training in options and futures, has more than 28 years' experience in finance. He has been at Desjardins Securities for more than 20 years, including nine years as a branch manager, and was named vice-president in 2003. Here is how he sees himself:

"I define myself as a professional who shows integrity, energy and directness. I act decisively and get straight to the point. Generous with my time and advice, I admire transparency, candour and clarity. I maintain continual and sincere communications with my clients."

Pascale Bergeron,

Associate Advisor

T 450-777-8845

Languages: French, English

Ms. Bergeron has worked at Desjardins Securities for 21 years, including as an associate advisor and as a branch coordinator. Her solid experience and extensive knowledge in securities contributes to the outstanding client service she provides.

As an associate advisor on the team, she handles quality control for our services, organizes events and is responsible for discretionary management transactions. She's known for being a focused, detail-oriented and efficient teammate.

Pascale Vermette,

Associate Advisor

T 450-777-3269

Languages: French, English

The holder of a bachelor's degree in industrial relations from Université Laval, Ms. Vermette has completed the Canadian Securities Course. She has worked in the securities field for 20 years (Midland Walwyn, Merrill Lynch, CIBC Wood Gundy and Desjardins Securities) as an assistant to advisors. She has been part of JFS Group for 17 years. Active in sports, she competes in provincial and national swimming events and serves as a volunteer in her sport.

Josée Bédard,

Investment Assistant

T 450-263-7555

Languages: French, English

Ms. Bédard has been working in the securities sector since 1985. She has experience in many institutions (Midland Walwyn, FBN, Raymond James and Desjardins Securities), where she held various positions such as branch coordinator and assistant to an advisor.

Ms. Bédard enjoys tackling challenges and working with our clients.
Locations
Desjardins Securities at Cowansville
145, rue Sherbrooke
Suite 102
Cowansville (Québec) J2K 5E7
450-263-7555 Toll-free : 1-855-263-7555Fax : 450-263-5805
Route
List of investment advisors
Desjardins Securities at Granby
450 rue Principale
Suite 100
Granby (Québec) J2G 2X1
450-777-8004 Toll-free : 1-800-830-8004Fax : 450-777-0783
Route
List of investment advisors
Desjardins Securities at Sherbrooke
300, rue Belvédère Nord
Suite 201
Sherbrooke (Québec) J1H 4B1
819-820-2999 Toll-free : 1-800-668-2999Fax : 819-820-2513
Route
List of investment advisors
Back to top