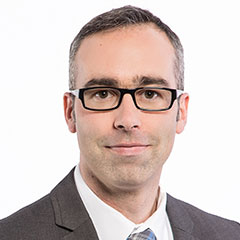 Éric Landry

, BBA, CFP®

Investment Advisor

T 819-693-2940 ext. 5052050

Languages: French
Biography
Éric Landry has more than 11 years of experience in the financial sector with Desjardins, working with affluent clients, professionals and business leaders. He holds a bachelors in business administratoin from UQTR and a certificate in financial planning from UQAM.  In addition to completing the Conduct and Practices Handbook Course and the Canadian Securities Course, he also is a financial planner and has been a member of the Institut québécois de planification financière since 2009.
Mission
Éric is committed to meeting all of his clients financial needs by suggesting a comprehensive approach to wealth management. He has both the experience and expertise needed to offer highly qualified advice, helping his clients fully understand the different offers on the market and make informed decisions.
Investment Philosophy
Sound investment management is called for in both accumulation periods and withdrawal periods. With this in mind, high-quality securities will be selected, as well as the best issuers and fund managers. Éric's objective to foster medium- to long-term growth is achieved through tactical growth management.  Speculative investing is avoided and income securities area prioritized.
What sets us apart
He is able to develop a customized financial plan and strategies that will allow his clients to meet their financial goals.
Values
Integrity 
Transparency 
Active listening 
Availability
Service Offer
Éric Landry is committed to guiding his clients through the financial decisions they make at each step in their life. His goal is to offer the best products for his clientele, based on their needs, with a service offer that meets and surpasses their expectations.
Location
Desjardins Securities at Trois-Rivières
1500, Royale Street
Suite 450
Trois-Rivières (Québec) G9A 6E6
819-693-3750 Toll-free : 1-888-316-3750Fax : 819-693-2666
Route
List of investment advisors
Back to top