François Panneton

, B. COM.

Investment Advisor

T 514-281-3466

Languages: French, English
Biography
François holds a bachelor's degree in business administration (finance) and has 25 years of experience working in various financial institutions.
He has been with Desjardins Securities since 2016. He is known for his integrity, being available to his clients and supporting them at every stage of their lives.
Panneton-Bellefeuille Group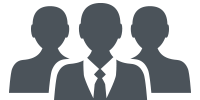 With a combined 55 years of experience working as investment advisors, Mr. Panneton and Mr. Bellefeuille ensure that their clients' assets are managed effectively. They offer their clients specific solutions adapted to their personal situation so they can meet their financial goals at every life stage.
Everything is carried out in a very transparent manner and within their clients' risk tolerance levels.
Mission
Help our clients meet their financial goals at various life stages.
Advise our clients and give them access to the entire range of investment products.
Assist our clients with asset accumulation, wealth management and retirement income withdrawal strategies.
Investment Philosophy
To manage risk and minimize volatility, we offer well-diversified portfolios with investments in various asset classes (stocks, bonds, cash, etc.) or geographic regions.
We conduct fundamental research on publicly traded companies and analyze macro-economic data to help us build and monitor your portfolio based on various business cycles.
What sets us apart
We have experience in financial markets and analyze them on a daily basis, so we're able to offer you a portfolio tailored to your specific situation.
When we make recommendations, we always take into account your family situation, marital status, financial situation, income, risk tolerance and investment horizon.
Values
Expertise, experience, professionalism, honesty, availability
Service Offer
Wealth management                                    
Advisory services
Tax optimization strategies
Building and monitoring of portfolio
Option strategies
Retirement planning
Collaboration with other Desjardins Group specialists to meet your financial planning, estate planning and insurance needs 
Biographies of my colleagues
Guy Bellefeuille

, B.Sc., FCSI®

Investment Advisor

T 514-281-3467

Languages: French, English

Guy holds a bachelor's degree in industrial relations from Université de Montréal and has 30 years of experience in the financial industry working in leading brokerage firms.

Guy is involved in his community, and has been a board member for a number of years for Complexe Sportif Candiac and the Château Ramezay Historic Site and Museum of Montréal. He was also the vice-chair of the city of Candiac's retirement committee.
Location
Desjardins Securities at Place Ville Marie
1 Place Ville Marie
Suite 1970
Montréal (Québec) H3B 0E8
514-876-1441 Toll-free : 1-866-876-1441Fax : 514-876-1106
Route
List of investment advisors
Back to top