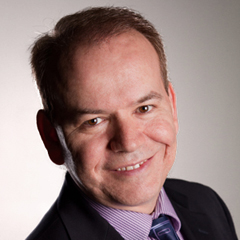 Jacques Neault

, BBA

Vice-President, Investment Advisor

T 514-281-7026

Languages: French, English
Biography
Mr. Neault began his career in the wealth management industry as an investment advisor in 1986 after completing a bachelor's degree in business administration, with a finance major, at the Université de Sherbrooke. He has worked at Desjardins Securities since 1994 and has been a member of the President's Club on several occasions. Mr. Neault has developed great expertise in investment markets, whether in stocks or bonds. He seeks wealthy individuals, trusts and companies as clients.
Mission
Helping our clients maximize the return on their investments while minimizing their risk.
Being available to our clients.
Investment Philosophy
To stay on top of market trends, we undergo continuous training.
Mr. Neault has developed skills enabling him to adjust to changes in economic conditions.
What sets us apart
For some clients, the ideal model incorporates stocks, bonds, indices and investment funds. For others, it consists mostly of funds.
Mr. Neault has developed a sixth sense for finding the top managers in each category. He also monitors portfolios very closely and recommends appropriate rebalancing in keeping with changes in economic conditions or in a client's stage in life.
Values
Our primary value is integrity, with honesty close behind, followed by discipline.
Service Offer
We offer a full array of products for sound management of our clients' wealth: current accounts, RESPs, LIRAs, TFSAs and RRSPs. We establish each investor's financial goals and risk profile to help them prepare for retirement
Location
Desjardins Securities at Montréal - Le Windsor
1170, Peel Street
Suite 300
Montréal (Québec) H3B 0A9
514-985-7585 Toll-free : 1-866-985-7585Fax : 514-987-9593
Route
List of investment advisors
Back to top