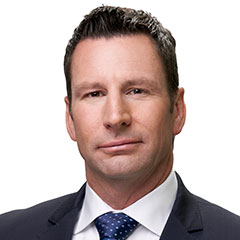 Martin Langlois

, BBA, CIM®

Vice-President, Portfolio Manager, Investment Advisor

T 450-682-5177

Languages: French, English
Biography
Bachelor's degree in business administration
Chartered Investment Manager (CIM®)
With Desjardins Securities since 1994
Named vice-president of Desjardins Securities in 2001 for his professional accomplishments within the company
Desjardins Securities branch manager from 2000 to 2014
LLRS Group
Excellence Accreditation
Excellence accreditation attests that the investment advisor's services meet the highest standards of quality in order to offer you an unparalleled experience in meeting your financial needs. This distinction is awarded exclusively to Desjardins Securities investment advisors who participate in a continuous development and improvement program.
The team that guides you to your destination
The wide range of training and professional experience of our team members explains our business acumen, in-depth knowledge and exceptional creativity in financial matters.
It is also our greatest asset and your guarantee of satisfaction.
Mission
Our fundamental purpose
Developing a sustainable relationship of trust that allows us to guide you through the various steps leading to achievement of your goals.
Investment Philosophy
We focus on conservative management aimed at reducing risk while achieving capital growth.
Our investment process based on a top-down approach provides us with a realistic picture of the global economy and enables us to select stocks that meet clearly established fundamental criteria.
Fully aware of the advantages of index investing and the importance of tactical changes in asset allocation, we make sure our portfolios, comprising both individual stocks and index products, derive the best from active and passive management.
We favour the core-satellite approach, which combines the use of index products – reflecting changes in the market (Core) – with individual stocks – all hand-picked and allowing us to seize opportunities as they arise (Satellite).
What sets us apart
Our added value
Unquestionably our experience in discretionary management and the dedicated support we offer you in managing your wealth throughout your lifetime.
Our portfolio managers' skills and reputations, coupled with the cumulative professional expertise of the other members of the team, help you achieve your goals while giving you peace of mind.
Values
Rigour in our investment methods and approaches to ensure your goals are reached;
Transparency in our communications with you: essential to your sound understanding of the issues and of the path needed to reach your goals; 
Discipline in our stock selection, which must meet specific technical requirements to assure healthy diversification.
Service Offer
Our flagship product: discretionary management

Our discretionary management expertise allows you to entrust your portfolio management to seasoned professionals without having to participate in every decision along the way.
Highly qualified managers conduct the transactions deemed necessary to further your best interests, while adhering rigorously to the investment guidelines you set out beforehand.
Biographies of my colleagues
Luc Lagacé

, BBA, CIM®, CFP®

Vice-President, Portfolio Manager, Investment Advisor

T 450-682-5588

Languages: French, English

Bachelor's degree in business administration
Certified Financial Planner (CFP®)
Chartered Investment Manager (CIM®)
With Desjardins since 1988
With Desjardins Securities since 1999 
Named vice-president of Desjardins Securities in 2014 for his professional accomplishments within the company

Miguel Robitaille, BBA, CPA, CMA

Investment Advisor

T 450-682-7753

Languages: French, English

Member of the Ordre des comptables professionnels agréés du Québec
Bachelor's degree in business administration
With Desjardins Securities since 2008
More than 14 years' experience as a financial analyst in the manufacturing sector

Philippe St-Aubin, MBA, BBA, CPA, CMA

Investment Advisor

T 450-682-8710

Languages: French, English

Member of the Ordre des comptables professionnels agréés du Québec
Master's degree in business administration (MBA), with a specialization in corporate finance
Bachelor's degree in business administration
With Desjardins Securities since 2012
More than 14 years' experience in the financial sector

Richard Paquin,

Investment Advisor

T 450-682-1470

Languages: French, English

Certificate in financial planning from Université Laval
With Desjardins Securities since 2004 
More than 20 years' experience in the Desjardins Caisse network

Geneviève Benoit, BBA

Associate Advisor

T 450-682-5002

Languages: French, English

Bachelor's degree in business administration
With Desjardins Securities since 2010 
More than 15 years' experience in the securities field

Jacqueline Bertrand,

Investment Assistant

T 450-682-7703

Languages: French, English

With Desjardins Securities since 2004
More than 17 years' experience in the securities field

France Laplante,

Investment Assistant

T 450-628-5922

Languages: French, English

With Desjardins Securities since 2003
More than 15 years' experience in the securities field 
Prior experience in the academic and pharmaceutical sectors

Caterina Barile,

Investment Assistant

T 450-682-5733

Languages: French, English, Italian

With Desjardins Securities since 2011
More than 15 years' experience in the securities field
Location
Desjardins Securities at Laval
3055, boulevard St-Martin Ouest
Suite T440
Laval (Québec) H7T 0J3
450-682-5858 Toll-free : 1-800-449-7881Fax : 450-682-6474
Route
List of investment advisors
Back to top