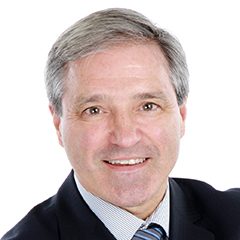 Michel Trépanier

, MBA, FCSI®, CIM®

Vice-President, Portfolio Manager, Investment Advisor

T 514-281-7097

Languages: French, English
Biography
In 1984, after completing a master's degree in business administration at Université Laval, Mr. Trépanier became a professor at the Université du Québec à Chicoutimi, where he taught corporate finance for five years. In 1990, he accepted a management position at the Institute of Canadian Bankers to develop and manage a program of specialized training seminars. Increased interest among bank customers in the Institute's personal financial planning seminar led him to start his own personal financial planning firm. He worked on an independent basis as a financial planner and financial security advisor until December 2000. 
In January 2001, he joined Desjardins Securities. In 2003, he earned the title of Chartered Investment Manager (CIM®) after completing the training course with honours. In 2003 and 2004, he was named "Emeritus Advisor" at Desjardins Securities, and in 2004 he qualified for a place in the President's Club. Since then, his consistency and the excellence of his work have earned him the same honour year after year.
In 2006, he was received as a Fellow of Canadian Securities Institute. In 2009, he was named vice-president at Desjardins Securities, and in 2012 he launched his discretionary management program based on strategic index asset allocation.
Mr. Trépanier meets the highest ethical and professional standards.
Mission
Helping individuals and businesses acquire, develop, protect and bequeath their financial wealth.
As part of a consultative approach, we determine our clients' needs and desires to help them select the financial strategies best suited to their situation. We then implement and coordinate these strategies to help attain various goals so that our clients can fulfil their dreams.
Investment Philosophy
Empirical studies show that asset allocation explains more than 90% of a portfolio's return and that index management generally provides a higher return over time than traditional active management. In light of these observations, we have developed an asset management methodology based on strategic index asset allocation.
To ensure specific exposure to various financial markets and to different categories and sub-categories of assets, we use exchanged-traded funds (ETFs) that reproduce indices and financial strategies. In this way, we can alter strategic asset allocation quickly and inexpensively, reflecting new macroeconomic outlooks as required. 
To validate or revise our choices in the composition and strategic allocation of index assets, we regularly evaluate a set of macroeconomic, quantitative, qualitative and event-related data.
Portfolio rebalancing based on specific strategic asset allocation parameters leads us to buy eqity ETFs when markets fall below a specific trigger point and, similarly, to sell fixed-income ETFs when markets rise above a trigger point. The idea is to "buy cheap and sell dear." Our management mechanism leads us in this direction most of the time.
Fixed-income ETFs provide credit risk diversification, maturity diversification and particular sensitivity to changes in interest rates. 
Equity ETFs provide diversification by country or geographic area, by business sector, by market capitalization and by financial strategy.
Benefits that result from our investment strategy:
Access to financial markets worldwide and to all asset categories 
Strategic asset allocation that maximizes diversification
Rebalancing based on specific allocation parameters 
Tax efficiency due to low turnover of positions in a portfolio
Modest management fees collected by exchange-traded funds
Fixed management fees based on assets under management
Transparency in operations and costs
As a precaution, we invest in exhchange-tradeed funds (ETFs) that hold the same assets or a wide array of the assets in the index they seek to replicate. We do not invest in synthetic ETFs that get their value from derivatives.
What sets us apart
We combine financial planning with asset management to achieve fuller coordination of our clients' overall financial strategies at each stage of their lives.
We seek a higher relative return on assets but above all an absolute return that is adequate for our clients to fulfil their dreams and ambitions. Performance goals are not guarantees of performance, however.
Our approach is structured and structure-building.
Values
Reliability, transparency and integrity: We are committed to saying what we do and to doing as we say – always.
Prudence and dynamism: We take a thoughtful approach and dare to do what is needed.
Simplicity: We focus on simplifying financial notions to help clients grasp them.
Service Offer
Our service offer is divided into three parts:
financial projection;
portfolio management; and
financial security management

Footnote

1.
Our financial products encompass all stocks traded on the main North American exchanges and a wide range of insurance brokerage products including annuities as well as life, critical illness and disability insurance
Our discretionary management program, based on strategic index asset allocation, comprises five investment portfolios. Each of them represents a complete management solution that meets the requirements of a given investor profile. Our portfolios are designed to obtain specific exposure to various financial markets and to various categories and sub-catgegories of financial assets.
Location
Desjardins Securities at Montréal - Le Windsor
1170, Peel Street
Suite 300
Montréal (Québec) H3B 0A9
514-985-7585 Toll-free : 1-866-985-7585Fax : 514-987-9593
Route
List of investment advisors
Back to top