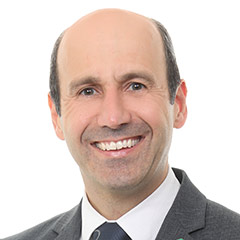 Patrick Laforce

, BBA, F. Pl

Investment Advisor

T 819-693-0111

Languages: French
Biography
The holder of a bachelor's degree in business administration, finance major, from the Université du Québec à Trois-Rivières (UQTR), Mr. Laforce earned his title as a financial planner in February 2000. He worked in the Desjardins Caisse network from 1997 to 2012, including 12 years as a financial planner.
His skill areas include extensive knowledge of financial markets and financial planningFootnote 1, vital for establishing customized financial and retirement planning programs.
Ricard-Normandin-Laforce Team
Excellence Accreditation
Excellence accreditation attests that the investment advisor's services meet the highest standards of quality in order to offer you an unparalleled experience in meeting your financial needs. This distinction is awarded exclusively to Desjardins Securities investment advisors who participate in a continuous development and improvement program.
The Ricard-Normandin-Laforce Team is a group of investment advisors whose goal is to guide a clientele of businesspeople, professionals and affluent investors in the customized management of their wealth with a comprehensive approach.
Our expertise in investment management, finance, taxation and financial planning enables us to advise our clients proactively.
Mission
Our mission is to steer a course for our clients in the management of their financial wealth through a comprehensive structured approach that is tax-efficient and accessible.
Investment Philosophy
Building customized portfolios in a highly structured manner based on sound asset diversification, investing in securities that offer high value. Tax efficiency is always sought.
What sets us apart
We provide our clients with active management of their wealth, using a unique portfolio diversification structure based on a proven investment philosophy.
Values
Our values are: skill, trust, rigour, accessibility and transparency.
Service Offer
Investment management, financial and retirement projections, support from experts for life and health insurance services.
Individual Pension Plans (IPPs) for businesspeople.
Biographies of my colleagues
Paul Ricard

,

BBA

Investment Advisor

T 819-693-2804

Languages: French

An accountant by training, Mr. Ricard worked in this capacity for Ernst & Young and for Samson & Belair as well as for the accounting department of the UPA farm organization in Nicolet. He has been an investment advisor since 1999.

His broad knowledge of individual and corporate taxation and his experience in financial markets enable him to provide professional management and high-quality service, based on a long-term relationship of trust.

Roger Normandin, FCSI®, CIM®, F. Pl

Investment Advisor

T 819-693-8256

Languages: French

Mr. Normandin has been designated a Fellow of the Canadian Securities Institute (FCSI®) since 2003, the highest honour in Canadian financial services. He is also a Chartered Investment Manager (CIM®) and financial planner (Pl. Fin). He has been with the Mouvement Desjardins since March 2000.

Expert in the financial markets, he makes sure our clientèle, consisting primarily of people in the business field, is well served.

Mr Normandin sits on the boards of directors of the Artisans de Paix and of the Fondation Bouche B, an organization in the Mauricie region created by dental health professionals who offer services free of charge to individuals who lack the means to receive adequate treatment.

Dominic Boucher, BBA, F. Pl

Investment Advisor

T 819-379-7878 ext. 5052038

Languages: French, English

Mr. Boucher has over 10 years of experience in financial institutions. He has a bachelor's degree in finance from the Université du Québec à Trois-Rivières (UQTR) and is a licensed financial planner.

His investment management skills, particularly with respect to financial and retirement projections, allow him to provide effective assistance to our clients.

Caroline Bourassa,

Investment Assistant

T 819-693-1445

Languages: French

Ms. Bourassa studied business administration with a specialty in finance. She has been with Desjardins Group since 2003. Caroline helps Investment Advisors with their administrative tasks related to client account management. She is known for her proactive, take-charge attitude and rigorous follow-up. She works in close collaboration with the Advisors.

Dwayne Grenier,

Advisor Assistant

T 819-566-9392 ext. 5052018

Languages: French, English

Mr. Grenier has been working at Desjardins Group since 2015. He's currently completing his Bachelor of Business Administration at the University of Quebec at Trois-Rivières. Known for his enthusiasm and attention to detail, he assists investment advisors with the administrative end of customer service and operations.
Location
Desjardins Securities at Trois-Rivières
1500, Royale Street
Suite 450
Trois-Rivières (Québec) G9A 6E6
819-693-3750 Toll-free : 1-888-316-3750Fax : 819-693-2666
Route
List of investment advisors
Back to top