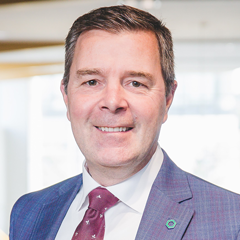 Rock Pelletier

, FCSI®, CIM®

Vice-President, Portfolio Manager, Investment Advisor

T 450-671-5756

Languages: French, English
Biography
With Desjardins Securities since 2004
Over 25 years of investment experience
Certified Investment Manager (CIM®) and Fellow of CSI (FCSI®)
An attentive and dedicated professional, Rock Pelletier's reputation precedes him. In additon to his top-notch industry credentials (CIM® and FCSI®), Desjardins Securities has entrusted him with the role of Vice-President; he has also been a member of the President's Club for several years now.  
His disciplined management approach, solid expertise, credibility and work ethic make him an outstanding asset to his clients.
Mr. Pelletier sets himself apart by providing you with in-depth financial analyses. Partnering with him is synonymous with added value.
Pelletier-Raymond Team
Mission
Helping you and your family reach your financial goals through the responsible and disciplined management of your assets.  
Investment Philosophy
MANAGEMENT THAT'S DYNAMIC AND SECURE
When we manage your assets, we adhere to the highest industry standards.
Our disciplined approach stands out from the rest—we seek not only to meet your short-term objectives, but also to help you build the future of your dreams.
Our management policy is designed to optimize your investment portfolio with a careful, diversified and well-managed selection of securities.
Our process is both seamless and dynamic. We are committed to helping you profit from market opportunities while still respecting your risk tolerance.
What sets us apart
YOUR SATISFACTION, OUR PRIORITY
As your trusted partner, we provide you with first-rate service and take a comprehensive approach to managing your financial wealth.
With each and every client, we build a solid and long-lasting relationship founded on attentiveness, transparency and confidentiality.
Your total satisfaction is our first priority. That's why professional ethics and integrity top the list of our values.
Values
PROFESSIONAL ETHICS AND INTEGRITY
Honesty first and foremost—that's the secret to maintaining the unique relationship of trust with our clients.
DISCIPLINE
We stick to our strategies. That and a diligent follow-up approach are at the heart of what we do.
ATTENTIVENESS
We take a human and empathetic approach to how we do business. We're as close as you need us to be.
Service Offer
The Pelletier-Raymond Team is your one-stop-shop for a wide range of financial products and services: savings, insurance,Footnote 1 credit,Footnote 2financial planningFootnote 1 and much more.
When it comes to the business world, our ears are to the ground. We tailor our services and advice to entrepreneurs (business owners and executives), professionals, retirees and pre-retirees.
Biographies of my colleagues
Manon Raymond

,

F. Pl

Investment Advisor

T 450-671-2004

Languages: French, English

IQPF graduate (Institut Québécois de planification financière)
More than 25 years working for Desjardins Group
Financial planner since 2001
Joined Desjardins Securities in 2015

A skilled communicator, Manon Raymond specializes in providing you with clear and realistic solutions that grow as you do.

With her solid background in financial planning, she is able to assess your overall financial situation, no matter its complexity, and draw up a personalized action plan for you.

Committed and attentive, she is the perfect partner to help you meet your short- and long-term financial goals.

Connie Foley,

Associate Advisor

T 450-671-7879

Languages: French, English

Associate advisor for over 20 years
Canadian Securities Course (Canadian Securities Institute)
Conduct and Practices Handbook Course (CSI)
Financial Planning Program (CSI)

Attentive and diligent, Connie Foley is tasked with the end-to-end management of your file, so you know you're taken care of every step of the way.

Our clients appreciate her discipline, professionalism and devotion to her work.

Sylvie Bouchard, BBA

Investment Assistant

T 450-671-3419

Languages: French, English

Investment assistant for more than 20 years
Canadian Securities Course 
Conduct and Practices Handbook Course

The quality of her work and her attention to detail contribute to the excellent service we offer our clients. With her strong administrative and organizational skills, she is able to soundly and efficiently manage client files. 

Our clients also greatly appreciate her ability to explain things in clear, everyday language.
Location
Desjardins Securities at Brossard
Quartier DIX30 - Le Square
9120, boul. Leduc, bureau 205
Brossard (Québec) J4Y 0L3
450-671-6788 Toll-free : 1-888-883-4588Fax : 450-671-6280
Route
List of investment advisors
Back to top