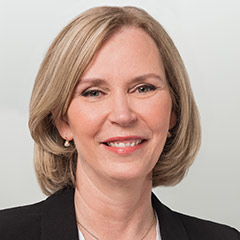 Isabelle Legault
Investment Advisor
T 450-349-7170
Languages: French
Biography
Ms. Legault has more than 25 years' experience in the securities field, working first at the bond desk and since 2005 as an investment advisor.
In addition to providing consulting services, she contributes to our investment committee and to developing investment strategies, more specifically regarding fixed-income securities.
Gauvreau-Georges-Legault Team
Excellence Accreditation
Excellence accreditation attests that the investment advisor's services meet the highest standards of quality in order to offer you an unparalleled experience in meeting your financial needs. This distinction is awarded exclusively to Desjardins Securities investment advisors who participate in a continuous development and improvement program.
Mission
Listen. Plan. Take action.
We manage your assets with focus and discipline so you can achieve your goals and find financial freedom.
Investment Philosophy
Prudence and risk management
Our investment philosophy is based on prudence and risk management. Taking care of your money involves growing your capital over the long term and carefully managing risk through sound asset allocation.
And that's not all. We make sure you stay ahead of the game by leveraging tax-optimization strategies and carefully sequencing withdrawals.
Values
Active listening
Your needs are unique and it's important to us that we understand them. By listening carefully to what you have to say, we're able to serve you better and take care of all your wealth management needs.
We believe that active listening is the foundation of a solid relationship.
Focus and discipline
We owe our success to focus and discipline. These values guide us every day, in everything we do, so we can meet your highest expectations.
Commitment
We're committed to helping you achieve your goals.
We'll be there with you every step of the way to financial freedom.
Honesty and transparency
We make every decision with your best interests in mind. We've also chosen a fee-based structure to ensure transparency and eliminate any conflicts of interest.
Service Offer
We can help make your dreams a reality!
We've got the tools and services you need to reach your financial goals.
We'll help you choose the right account for you:
• Cash accounts*
• Margin accounts*
• Registered accounts (RRSP*, LIRA, TFSA*, RESP, RRIF, LIF)
• Elite Program account
* In CAD and USD
Our products and services
Common, preferred and flow-through (tax-sheltered) shares, and foreign equities and shares traded on North American stock exchanges
Government and municipal bonds, corporate debentures, strip bonds and guaranteed investment certificates
Money market securities
Investment and exchange-traded funds
Life insurance (offered by Desjardins Securities Financial Services)
Fee-based wealth management advisory services (some services offered by external partners or with your tax and legal advisors)
Biographies of my colleagues
Chantal Gauvreau

, CIM®, F. Pl

Investment Advisor

T 514-281-5942

Languages: French

A graduate in personal financial planning from Université Laval and holder of the financial planner designation awarded by the Institut québécois de planification financière (IQPF), Ms. Gauvreau has also been designated a Chartered Investment Manager (CIM®) by the Canadian Securities Institute.

Working in the securities field for more than 25 years, her expertise and experience enable her to conduct a full analysis of clients' personal financial positions. In addition to providing consulting services, she contributes to our investment committee and to developing investment strategies, primarily in asset allocation in portfolios.

Stéphane Georges, B.Sc., CIM®

Investment Advisor

T 450-349-1354

Languages: French, English

Mr. Georges began his career in the industry in 1987 as an investment advisor, returning to the field in 2006 after working in the civil service.

In addition to providing consulting services, he contributes to our investment committee and to developing investment strategies. He has a passion for stock research and analysis.
Location
Desjardins Securities at Brossard
Quartier DIX30 - Le Square
9120, boul. Leduc, bureau 205
Brossard (Québec) J4Y 0L3
450-671-6788 Toll-free : 1-888-883-4588Fax : 450-671-6280
Route
List of investment advisors
Back to top