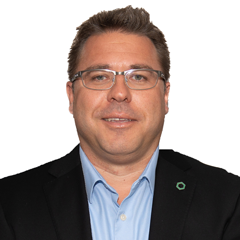 Steven Charest
Investment Advisor
T 418-833-8599
Languages: French, English
Biography
With a passion for investment going back more than 15 years, Mr. Charest has worked at Desjardins Securities since 2010.
He is always on the outlook for well managed companies that can help clients' capital grow with reasonable risk. He specializes in small-cap and large-cap U.S. and Canadian equities.
His client base consists of entrepreneurs, professionals and retirees who show an interest in financial markets without necessarily having the time and knowledge to optimize the management of their wealth.
CCT Team
A Passionate Team
We're a team of investment advisors who are passionate about the stock market and have proven expertise in the financial industry. We're committed to offering unparalleled advisory services and putting people first. We treat our clients how we want to be treated—with respect and integrity.
Mission
We're committed to offering you an investment experience that maximizes results. We use a distinct and unique approach based on proper advice and a targeted service offer, so we're able to recommend the best solutions to help you achieve your life goals.
What sets us apart
A different financial services experience
We prioritize meeting your needs and are committed to serving you better. We want to play a key role in your financial success. To do this, we focus on building personalized relationship with our clients.
Values
Our values form the basis of the CCT Team. We're committed to you no matter what happens in the financial markets.
Transparency: We demonstrate integrity in our everyday activities.
Commitment: We support our clients with passion and enthusiasm.
Professionalism: We're thorough and use our expertise to serve our clients.
Attentiveness: We listen to you and pay special attention to what you have to say.
Service Offer
Wealth management: active portfolio management
Investment advisory services: unique stock selection offer
Financial and retirement planning
Tax strategies
Customized communication plan
Competitive rates
Availability and mobility
Biographies of my colleagues
Josée Croisetière

,

Languages: French

David Turcotte, B.Sc.

Investment Advisor

T 418-833-8353 ext. 5025205

Languages: French

David Turcotte has a bachelor's degree in applied sciences from Université Laval. He has been passionate about the financial markets and tax strategies for more than 20 years.

When David selects stocks for his clients, he draws on the approach used by individuals who have excelled at stock selection, and on the investment philosophies of Warren Buffett and Peter Lynch.

David specializes in the technology industry and has excellent knowledge and understanding about this ever-changing sector. He is able to explain things using simple language to help his clients build a diversified portfolio with peace of mind.
Location
Desjardins Securities at Lévis
5410, boulevard Guillaume-Couture
Suite 80
Lévis (Québec) G6V 4Z2
418-833-8353 Toll-free : 1-877-406-2146Fax : 418-833-9274
Route
List of investment advisors
Back to top