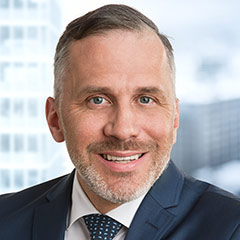 Steven Dion

, BBA

Investment Advisor

T 514-281-3463 ext. 5022037

Languages: French
Biography
Bachelor's degree in business administration from Université du Québec à Trois-Rivières
Over 18 years of experience as a wealth management advisor
Mission
My mission is to develop a close working relationship with clients and to become a trusted source for decisions about their wealth.
Investment Philosophy
Client focus
Our priority is to help our clients achieve their goals, and we're successful by anticipating and meeting their needs.
Teamwork
I value the multidisciplinary nature of my team and the talent that each person contributes (life and health insurance representative, accountant, notary, lawyer). Our collective knowledge and experience provides personalized service adapted to each client's needs. 
Discipline
Structure and discipline is essential when selecting securities and optimizing portfolio management in every phase of the market. Maintaining a consistent approach increases the chance that clients will achieve their financial objectives.
What sets us apart
I provide the support clients need when making financial decisions so they can achieve their goals.  
Service Offer
We bring a professional and efficient approach to every aspect of your finances: investments, credit, accident insurance, retirement and succession planning.
Take advantage of service that meets your expectations and gives you access to a deep talent pool. We'll closely analyze your needs and your current financial situation to create an overall plan that will help you achieve your goals.
Location
Desjardins Securities at Place Ville Marie
1 Place Ville Marie
Suite 1970
Montréal (Québec) H3B 0E8
514-876-1441 Toll-free : 1-866-876-1441Fax : 514-876-1106
Route
List of investment advisors
Back to top