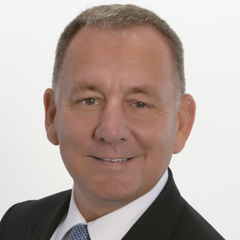 Yves Gauvreau

, BBA

Investment Advisor

T 450-223-1128

Languages: French, English
Biography
Mr. Gauvreau holds a bacelor's degree in business administration from Université du Québec à Montréal (UQAM) and also has a certificate in economics and human resources. He has taken the Canadian Securities Institute courses in securities and in conduct and practices as well as its courses for options supervisors and branch managers.
Before coming to Desjardins Securities, Mr. Gauvreau held a number of management positions at various national brokerage firms. He also provided securities training to the Royal Canadian Mounted Police.
His areas of expertise are strategies and the choice of investment vehicles, based on a personalized approach determined according to each investor's profile, as well as projections and action plans for sound retirement planning.
Cantin-Gauvreau Team
The Cantin Gauvreau Team favours long-term business relationships. This is why Mr. Gauvreau and Mr. Cantin always start with an initial interview during which they take the time to establish your financial goals and investor profile. Only after this interview and after understanding your financial needs do these conscientious professional advisors apply thoughtful recommendations for fulfilling your personal financial goals.
An investment portfolio should fit the needs of each client and should be reviewed periodically. The aim is to maintain adequate diversification while minimizing fluctuations in the portfolio. André and Yves take a realistic and prudent approach to building portfolios. Their approach is not for speculators.
Mission
We aim to establish a bond of trust and build a business relationship with our clients, getting to know them as investors so that we can suggest investment and wealth management solutions to fit their profile and lifestyle.
Investment Philosophy
The business process suggested to you is as follows:
Conducting an in-depth analysis of your investment goals and risk tolerance by listening carefully and gaining a solid understanding of your personal concerns;
Providing an impartial opinion on your current portfolio;
Establishing asset allocation and ensuring continuous follow-up;
Recommending the appropriate investment solutions and strategies;
Assessing your portfolio on a regular basis, as agreed upon with you;
Instituting a professional customized service in keeping with your needs.
What sets us apart
Our role as investment advisors
We are here to help you plan and attend to all your financial challenges. Our duty in this regard is to understand you so that we can serve you better and identify what is most important to you. We propose a comprehensive approach that will let you consolidate your assets, optimize your investment portfolio and establish an individual financial strategy. After all, each investor is unique.
Values
We believe that fulfilling our clients' financial goals involves establishing a solid and long-term relationship to:
Become familiar with your concerns and retirement goals;
Explain how a given security may be suitable for your portfolio;
Work in your best financial interest;
Be available to answer your questions;
Guide you during the various changes that arise in your life and in your financial position.
Biographies of my colleagues
André Cantin

, BBA, CIM®, F. Pl

Investment Advisor

T 450-223-1604

Languages: French

Bachelor's degree in business administration, Université du Québec à Montréal
Courses in securities trading
Standards of conduct and investment management techniques
Member of the Institut québécois de planification financière
Certificate in law from the Université de Montréal
Chartered Investment Manager

Before becoming an investment advisor at Desjardins Securities, Mr. Cantin served as specialized investment director and private management director in the Mouvement Desjardins. He has more than 20 years' experience in the investment and wealth management field.

Maryse Véronneau,

Investment Assistant

T 450-223-1043

Languages: French

Ms. Véronneau holds certification in financial planning from Université Laval and is a Canadian Securities Institute graduate. She has worked in the Mouvement Desjardins for more than 23 years.
Locations
Desjardins Securities at Saint-Hyacinthe
1395, Daniel-Johnson East Street
Suite 201
Saint-Hyacinthe (Québec) J2S 7Y6
450-223-1673 Toll-free : 1-888-313-6150Fax : 450-223-1677
Route
List of investment advisors
Desjardins Securities at Sorel-Tracy
385, Poliquin Blvd.
Sorel (Québec) J3P 5N6
450-742-8471 Toll-free : 1-866-441-8471Fax : 450-742-1439
Route
List of investment advisors
Desjardins Securities at Mont-Saint-Hilaire
470, boulevard Sir-Wilfrid-Laurier
Suite 205
Mont-Saint-Hilaire (Québec) J3H 6K3
450-223-1880 Toll-free : 1-855-202-6365Fax : 450-467-5669
Route
List of investment advisors
Back to top