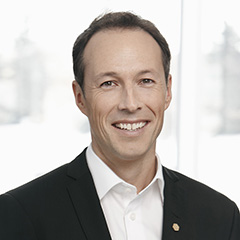 Jonathan Bolduc

, BBA, CIM®

Portfolio Manager, Investment Advisor

T 418-721-2668

Languages: French
Biography
Jonathan has worked in the securities sector since 2000; he also has two years in corporate finance
His vast network and business relationships with regional professionals serve him well in the area of business development
Jonathan also coordinates the team
Ouellet Bolduc Group Portfolio Managers
Excellence Accreditation
Excellence accreditation attests that the investment advisor's services meet the highest standards of quality in order to offer you an unparalleled experience in meeting your financial needs. This distinction is awarded exclusively to Desjardins Securities investment advisors who participate in a continuous development and improvement program.
A DEDICATED TEAM AT YOUR SERVICE
We are a team of specialists from different and complementary backgrounds who are committed to working together to help you achieve your goals. We never stop striving to surpass ourselves, and our results show it.
We hold our clients and partners in the highest esteem. We have a vast business network—and because our clients put their trust in us, it's growing. In 2015, our assets under management surpassed $600 million.
We are the Ouellet Bolduc Group. We're determined to meet your needs.
Mission
Since wealth management is a tremendous responsibility, our mission is to understand our clients clearly so that we can build long-term relationships with them, based on respect and trust.
In this way, we aim to become your primary investment advisor and help you achieve full peace of mind in investment matters.
Investment Philosophy
When investing, we put the security of capital first and foremost. In our view, the risk faced by an investor involves losing money rather than being beaten by an index, especially in the short term. Asset allocation, whether strategic, tactical, geographic or sectoral, is what the solidity of our recommendations is based on.
What sets us apart
We feel it's very important to share our expertise with our clients. We make sure you really understand the areas that matter, including risk management, the state of financial markets and changes within your portfolio.
Values
Integrity
Sharing of knowledge
Attentivness
Prudence
Meeting expectations
Service Offer
Discretionary portfolio management, with 17 models, ranging from income portfolios to growth portfolios and including tax-advantaged models.
Analysis of your financial position and projection of retirement income.
Tax planning.
Guidance in your estate planning

Footnote

1.
Biographies of my colleagues
Daniel Ouellet

, BBA, CIM®

Portfolio Manager, Investment Advisor

T 418-721-2668

Languages: French

Daniel has worked in the financial sector since 1998
As a financial markets expert, he brings his knowledge of the markets to asset allocation and investment strategies

Vincent Corriveau, BBA

Investment Advisor

T 418-721-2668

Languages: French

Vincent has been with Desjardins Securities since the Rimouski office opened in 1997
Since 2011, Vincent has focused on business process optimization and client presentations

Dany Lepage, M. Sc.

Investment Advisor

T 418-759-5292

Languages: French, English

Dany has been with Desjardins Securities since 1997 and provides investment advice to clients in the Gaspé region
An economist by training, Dany was drawn to our team in 2015 for our structure and the quality of our management

Mario Pépin, BBA

Investment Advisor

T 450-671-6788

Languages:

Mario joined the Group in 2015 after a career in pharmaceuticals 
After being our client for more than 15 years, Mario decided to follow his passion for finance and now oversees business development in the Montreal area

Sébastien Paquet, DMD

Investment Advisor

T 418-650-6350

Languages: French

After 20 years as a dentist, Sébastien joined our team in 2016 to do what he loves best and work with the markets
After 18 years as our client, he shares his expertise with his contacts in the Quebec City region

Jean-Sébastien Lavoie, BBA, F. Pl

Associate Advisor

T 418-721-2668

Languages: French

Jean-Sébastien is a Financial Planner who specializes in wealth management and has been with the team since February 2016.
A graduate of McGill and UQAR, he is currently working towards his master's degree in management

Pierre-Yves Dionne, BBA, F. Pl

Associate Advisor

T 418-721-2668

Languages: French

Pierre-Yves has been with our team since 2014 
He has a degree from UQAR
Pierre-Yves works in wealth management and oversees relations with our clients' accountants and tax professionals

Rafael Tavares, MBA

Associate Advisor

T 418-721-2668

Languages: French, English

Rafael joined the team in 2013
He puts his experience in securities to good use in his online portfolio management work

Francine Boulet, B.A.

Advisor Assistant

T 418-721-2668

Languages: French, English

Francine has been with the team since 2012—the year in which we received our excellence accreditation 
As the customer service keystone, she greets clients, answers their questions and keeps our team organized 

Mélinda Rioux, B.Sc.

Advisor Assistant

T 418-721-2668

Languages: French

Mélinda has been with the team since 2015
She examines our potential and current clients' financial situations
Mélinda comes to us with a Bachelor's degree in actuarial sciences from Université Laval

Catherine Lord,

Associate Advisor

T 418-721-2668 ext. 5027232

Languages: French

New addition to our team
With a graduate degree in financial planning and communications, Catherine brings over 8 years of Desjardins experience to our team.
Location
Desjardins Securities at Rimouski
180 des Gouverneurs
Suite 301
Rimouski (Québec) G5L 8G1
418-721-2668 Toll-free : 1-888-833-8133Fax : 418-721-5617
Route
List of investment advisors
Back to top