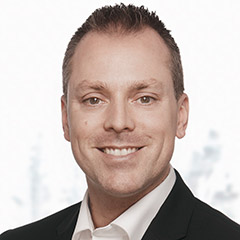 Sébastien Boulianne

, BBA, F. Pl

Investment Advisor

T 418-629-4499

Languages: French
Biography
Bachelor's degree in administration, corporate finance major
Financial planner (IQPF)
Certificate in financial planning
Conduct and Practices Handbook Course
Canadian Securities Course (honourable mention) 
Thirteen years' experience in the financial services field, including four years as a financial planner, during which time I have dealt mostly with a clientele consisting of professionals, business owners and wealthy individuals.
Mission
Advising people while endeavouring to take a comprehensive view of their assets.
Investment Philosophy
Implementing custom-made strategies that take account of your investor profile and risk tolerance as well as your financial needs and investment goals
Strategic diversification in keeping with your risk tolerance (asset classes, geographic and sectoral allocation, management styles)
Comprehensive view of your assets
Regular follow-ups of your portfolio
What sets us apart
I will guide you in your plans to make sure you can meet your financial goals.
Values
Honesty
Transparency
Relationships based on trust
Service Offer
Analysis of your current investment portfolio
Portfolio management
Full product range (stocks, bonds, mutual funds, etc.)
Optimization of tax strategies
Strategic allocation based on your investor profile
Planning for your retirement and your disbursement needs
Advice and guidance in all areas of financial planning

Footnote

1
Locations
Desjardins Securities at Amqui
15, rue Du Pont
Amqui (Québec) G5J 0E6
418-629-4499 Toll-free : 1-888-833-8133Fax : 418-629-1436
Route
List of investment advisors
Desjardins Securities at Matane
289, rue du Bon Pasteur
Matane (Québec) G4W 3C8
418-562-0209 Toll-free : 1-877-562-0209Fax : 418-562-6292
Route
List of investment advisors
Back to top